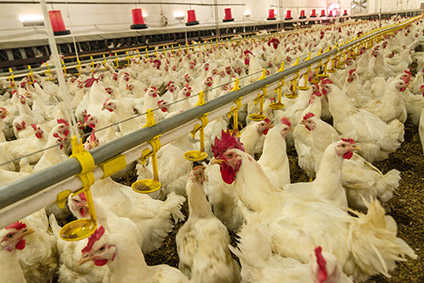 Sovereign Food Investments, the South Africa-based poultry processor, has booked a loss of ZAR35m (US$2.6m) for the year to the end of February, despite increased sales.
The company said total costs over the year were impacted by ZAR30.7m in legal and other costs to rebuff a takeover bid last year from fellow South African poultry group Country Bird Holdings.
The company warned earlier this month that it was set to post a loss for the year to the end of February.
In its full-year results report, Sovereign Food Investments confirmed headline earnings per share were down 143% at 46.5 ZAR cents compared to the same period a year ago.
Operating profit before depreciation and impairments dropped to ZAR18m compared to ZAR158m previously. Increased feed and distribution costs also contributed to its poor financial performance, the company said.
However, revenue grew 25% to ZAR2.2bn over the previous full-year period from sales of "higher margin niche, fresh and value-added products".
The company said its "product mix strategy continues to deliver", including a focus on the foodservice channel, with growth in deboning and its Chikka Chicken brand volumes.
In November, South Africa's government ruled Country Bird Holdings' bid for Sovereign Food Investments had contravened regulations, a ruling that meant the offer had lapsed.