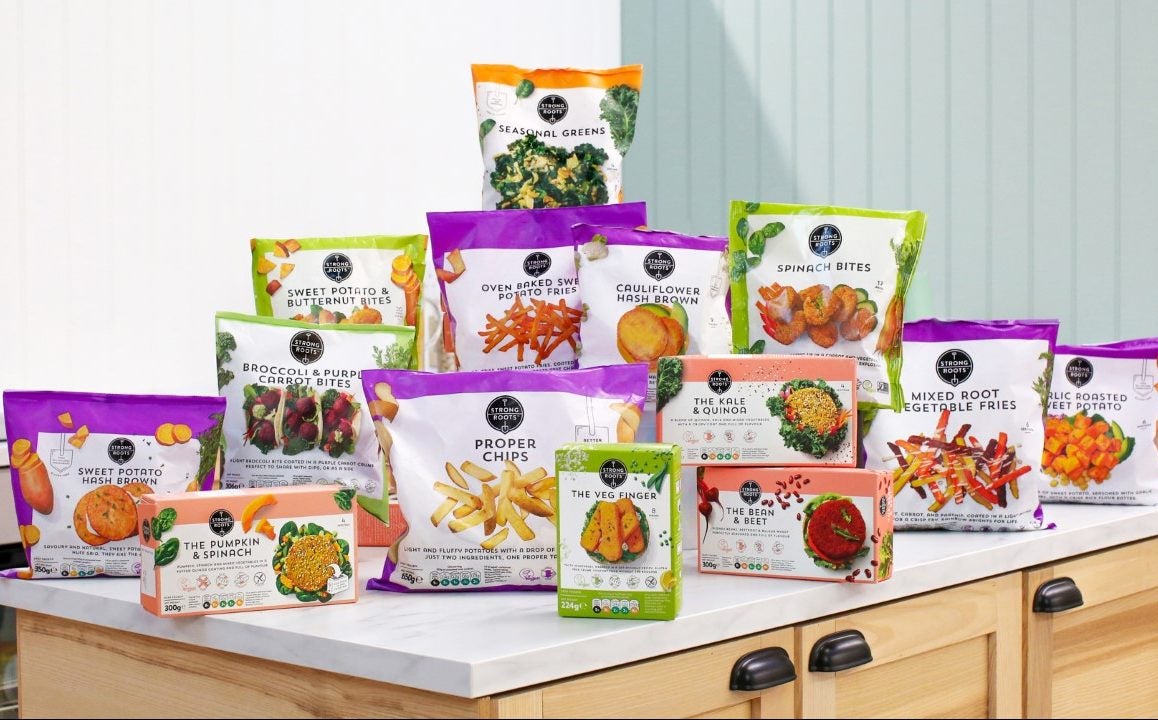 Ireland-based frozen-food business Strong Roots is looking to launch chilled products as part of its expansion plans following investment in the business from Canadian French fries giant McCain Foods.
In December, McCain invested US$55m in Dublin-based Strong Roots in exchange for a minority interest. The stake has been acquired from Goode Partners, the US private-equity firm that took a 38% stake in the company in 2019 as part of a Series A round.
Speaking to Just Food, Strong Roots founder and CEO Samuel Dennigan said the company is formulating growth plans that entail entering new markets, signing new retailer deals, targeting the foodservice channel and extending into new categories.
Dennigan said: "We wanted the resources to globalise the brand and partnering with a company like McCain was always inevitable. We don't have the expertise for high volume manufacturing."
Strong Roots will continue to operate independently under CEO Dennigan. "That's as important to them [McCain] as it is to us," he said. "They are too big to move in some of the guerrilla-style, agile ways we can."
Strong Roots, founded in 2015, produces frozen chips, along with a range of vegetables and vegetable-based snacks and bites. It sells its products through retailers in the UK and Ireland, including Tesco and Asda. The business also has listings in the US through major supermarket groups such as Whole Foods Market, Walmart and Kroger.
The company also has a presence in France, the Netherlands and Iceland, and further afield in Australia, Singapore and a clutch of markets in the Middle East.
Dennigan said it now is looking to take advantage of McCain's exposure to the foodservice channel to launch into the out-of-home sector.
"We will be trialling that in the UK and based on that looking to expand out," he said. "They are strong in foodservice and we want to tag onto that."
Dennigan said the move into foodservice is likely to happen at the end of this year or in early 2023.
More immediate plans include expanding beyond the frozen aisle. "We are opening up new categories in frozen but the new funding allows us to move much faster and we are looking at chilled and, potentially fresh, also," he said.
Dennigan said the McCain relationship will allow it to expand further in the US, central Europe and Australia. "We are looking at deeper penetration here [the US} and to focus more on the UK as well," he said.
Strong Roots' relationship with former investor Goode Partners became increasingly rancorous with Irish newspapers reporting High Court action and the investment firm questioning the food firm's cash position.
Dennigan would only say there was a "difference of suitability" on both sides.
"We've grown into a different company from the first funding round. We wish them [Goode] well but we are now looking forward to the relationship with McCain," he said.
He is confident Strong Roots can grow quickly on the back of the McCain deal with its production of "simple, real, clean food" competing against "ultra-processed plant-based food".
He said: "We are a fancy, healthy, back-up meal when you can't be bothered to cook a meal from scratch but we are also a side-of-plate ingredient.
"We are focused on consumer needs and that's why we have had double-digit growth in the last few years."
From the archive: "We see ourselves as the new Birds Eye for a modern generation" – Strong Roots founder Samuel Dennigan on his plans for the frozen vegetable brand