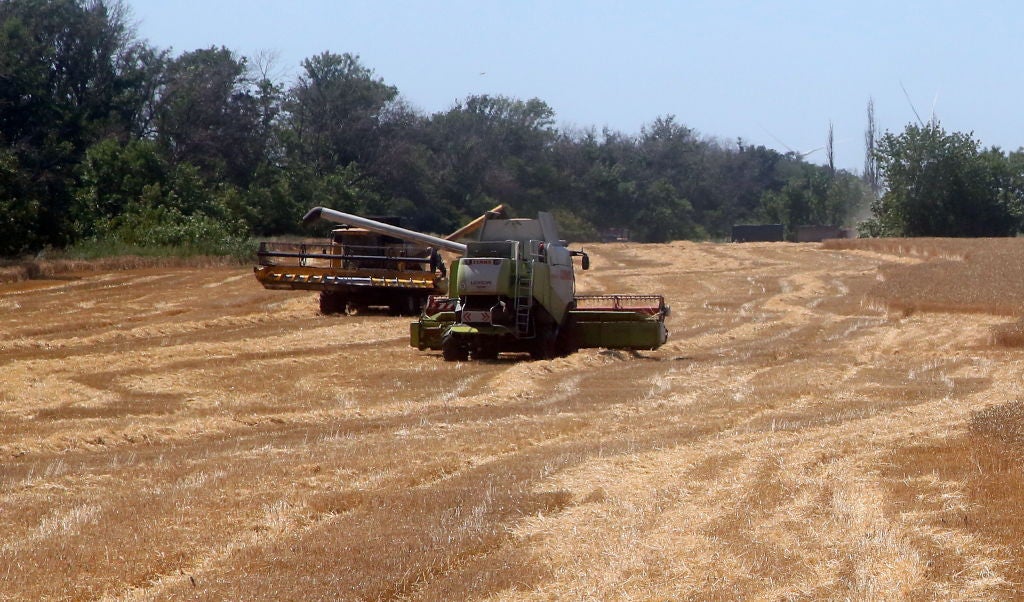 The EU has said the decision by member states Poland and Hungary to temporarily ban the import of grain and other produce from Ukraine is unacceptable.
Governments in Warsaw and Budapest have said duty-free imports from their war-torn neighbour are undermining their domestic farming industries but the EU, through its executive body the European Commission (EC), has said member states are not allowed to take unilateral action of this kind.
News agency Reuters reported this morning (17 April) Ukraine will aim to secure the re-opening of the transit of grain, dairy products, sugar, fruit, vegetables and meat via Poland at talks in Warsaw today.
The first news of action being taken to block Ukrainian exports came last Tuesday (11 April) when the Hungarian Agriculture Minister István Nagy said the shipments were causing problems for Hungarian producers.
Nagy said Hungary had asked the EC to take measures to handle the "intolerable" situation. He argued farmers need a predictable environment so that "they can go on with their production under the same conditions as their European peers" and said Poland, Slovakia, Romania, and Bulgaria were also calling for action.
Nagy said the Hungarian government would be introducing tighter controls over the imports, which he claimed "suppresses Hungarian products in their traditional markets and reduces farm gate prices below the cost of production".
He said the proposal was for a temporary reintroduction of duties and quantity restrictions for road or rail imports of Ukrainian grain and oil seed.
On Saturday (15 April), Poland followed suit. It said a ban on imports from Ukraine into Polish of "certain agricultural products" had been introduced and the new regulation will be in force until 30 June.
The ban covers cereals, sugar, seeds, fruits, vegetables, beef, pork, poultry meat and eggs.
Waldemar Buda, Poland's Minister of Development and Technology, said: "By introducing this regulation for a limited period of time, we want to protect the market, both for farmers and for consumers, that is, for all of us."
But, perhaps mindful of EU rules on such unilateral action being taken for trade protection purposes, the Polish government said it was taking the action partially because "harmful substances (pesticides)" were discovered in Ukrainian wheat imports. It suggested the move complied with European Union law because it was linked to the "protection of health and life of humans, animals or plants".
Speaking to broadcaster CNN this weekend, the EC denounced the action taken by Hungary and Poland.
EC spokesperson Arianna Podestà said: "Unilateral actions are not acceptable. In such challenging times, it is crucial to coordinate and align all decisions within the EU.
Podestà said trade policy is an "exclusive competence" issue and that such decisions must be made as a group, and not by individual member states.
It is requesting more information from the involved countries to assess the measures, the spokesperson said.
Ukraine is exporting more produce either to or via neighbouring countries by land because of the difficulties it has encountered shipping it out of Black Sea ports ever since Russia invaded the country more than a year ago.
The EU lifted duties on grain from Ukraine to ease distribution to developing markets via the land route. However, its neighbours are complaining that much of this cheap produce is staying within their borders.
Poland has called for the setting up of a scheme to ensure exports pass through the country and do not end up on the local market.
A deal with Russia, brokered by the UN and Turkey and recently renewed, allows Ukraine to continue exporting by sea by sea – but Kyiv has accused Russia of slowing the process with over-zealous inspections and Russia has warned that it may not extend the deal beyond 18 May – when it is next due to be renewed – and revert to a blockade of Black Sea ports unless sanctions against the export of Russian grain and fertiliser are removed.