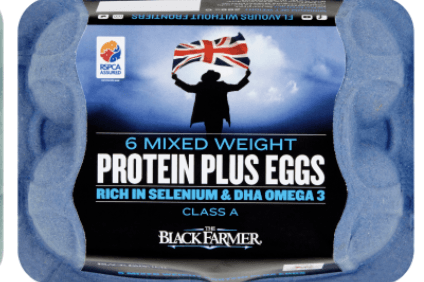 just-food publishes the most notable product development from the international food sector, presented in bitesize format to give you a flavour of the innovation from your peers and competitors announced this week.
UK meat business The Black Farmer expands egg range
The Black Farmer, the UK business best known for its sausages, has expanded its range of eggs with two new varieties, White and Protein Plus Eggs.
It said the White Egg variety is a nod to nostalgia, having been popular in the past but also supports its drive for more sustainable farming as the hens lay more consistently than brown hens, despite feeding on less.
The Protein Plus eggs contain high levels of organic selenium and DHA (Docosahexaenoic acid) Omega 3. These minerals and nutrients are fed to the hens, which absorbed them and deposit them into the eggs.
The Protein Plus Eggs and White Eggs RRP at GBP2.42 (US$3.43) and GBP2.29, respectively.
Valio to re-enter the ice cream market
Finnish dairy co-op Valio is returning to the ice cream market after more than a decade with the retail roll-out of the new Valio Ice Cream line of products in March.
The six flavour combinations, which are are lactose-free, will also be sold in Russia.
Valio said the flavour combinations are "bursting with beloved Nordic preferences".
The flavours are: Crazy Caramel With a Hint of Salt, Fresh Strawberry-Basil, Very Finnish Blueberry-Rye, Juicy Carrot Cake, Smooth Macchiato-Chocolate, and Kick-It-Up Salty Liquorish-Chilli.
Candy Kittens debuts vegan-friendly range
UK healthier sweets business Candy Kittens has launched a new gelatine-free range, developed in partnership with German confectioner Katjes Group which recently took a "significant" minority stake in the London-based firm.
Commenting on the new vegan-friendly range, managing director Ed Williams said: "When we launched we saw that there was a big gap in the market for a grown-up, modern sweet. Five years on we're now seeing consumers increasingly move towards making more ethical and conscious decisions."
Apart from being gelatine-free, the new range contains a higher percentage of fruit juice, is made with natural colour and flavours and remains gluten-free.
UK firm Fresh Marketing takes Fuel 10K into more categories
Fresh Marketing, the UK brand owner and distributor, has launched its flagship Fuel 10K brand into more categories in its domestic market.
Fuel 10K was a brand first unveiled in granola and then became one of the first breakfast drink brands in the UK. It has since moved into categories including quark and baked beans.
This week, Fresh Marketing announced the addition of yogurt drinks and peanut butter products to the range.
The yogurt drinks, aimed at children, are being sold in Asda stores later this month. Peanut butter pouches will be rolled out next month to unspecified retailers.
The company is also launching dairy-free yogurt pots by the end of this month into "major retailers".
September 2016 interview: Fresh Marketing co-owner Barney Mauleverer on sugar, Brexit and growth – the bitesize interview
Unilever launches Flora Sunflower Spray Oil
Anglo-Dutch giant Unilever has launched a low-calorie sunflower oil spray via its Flora spreads brand.
It says the product has been created using plant-based ingredients and is designed to tap into the growing number of consumers looking for more natural food products.
Chloe Irwin, senior licensing manager at Unilever UK, said: "Recent research has revealed a strong appetite for pure cooking oils and retailers can really capitalise on the launch of our new, more convenient Flora Sunflower Spray Oil, which will appeal to both existing and new shoppers."
The product comes in a 200ml recyclable bottle with a spray pump and cap. It has a RRP of GBP2.99 (US$4.24).
The company's spreads business – which includes Flora – was sold to private equity business KKR in December for US$8.04bn.
Tesco replaces Everyday Value budget loaves with HW Nevill's
Tesco has replaced its budget Everyday Value own label wrapped loaves with HW Nevill's, a brand that is reportedly made by the UK's Allied Bakeries, which is also the owner of Kingsmill.
The medium-sliced wholemeal bread is priced at GBP0.45 (US$0.63) for an 800 gram loaf, according to Tesco's website, the same price as its predecessor. The UK supermarket also offers other food products under the value line, such as baked beans and chilled foods.
Tesco's website adds: "Back in 1872, Henry William Nevill founded his first bakery and started a proud baking tradition. Almost 150 years later, our hero bakers take their craft just as seriously as Henry did. Using only quality ingredients, they work through the night to create delicious bakery favourites for the whole family to enjoy."
When contacted by just-food to comment on HW Nevill's, an Allied Bakeries' spokesperson said: "We supply a range of bread and bakery products for a small number of UK supermarkets, as well as our branded loaves. We cannot comment in detail on any individual commercial arrangements."
A Tesco spokesperson also declined to comment when contacted by just-food.
Mrs Crimble's rolls out on-the-go macaroon bars
Mrs Crimble's is reaching out to on-the-go UK consumers as the brand from Dutch food group Wessanen expands its gluten-free macaroon range into a convenient snack bar.
The Big Choc Macaroon Bar builds on Mrs Crimble's Mini Choc Macaroon sharing tubs and its fully chocolate covered Deeply Dippy Macaroons.
In Tesco and Sainsbury's stores nationwide from February, the 60 gram 'free-from' bars will be available at a recommended retail price of GBP0.99 (US$1.4).
"Food-to-go is growing in popularity and presents huge opportunities for snack brands to innovate and bring fresh thinking to the category," said Rebecca Vercoe, Mrs Crimble's brand controller at Wessanen.
Germany's Reinert launches antibiotic-free range
Reinert, the Germany-based meat products supplier, is to roll out its first line of antibiotic-free products.
The range will be launched in "mid-2018", Reinert said in a statement.
Pigs used for the products have been supplied by Denmark-based co-op Danish Crown.
CEO Hans-Ewald Reinert said: "It is important to us to give consumers freedom of choice and alternatives. It is not our aim to discriminate against conventional housing conditions and products, but to work together to develop sustainable solutions."
Reinert said the US and Italy had seen the "successful" launches of antibiotic-free meat products.
News – US antibiotic-free chicken market over-supplied, claims resolute Sanderson Farms
Nature Nate's Honey moves into peanut butter, maple syrup
US-based Nature Nate's Honey Co. is moving into a new food category with peanut butter, fruit spreads and maple syrup.
The producer of 100% "pure, raw and unfiltered" honey is launching Honey Peanut Butter and Honey Almond Butter, Honey Fruit Spreads in strawberry, cherry and mixed berry flavours, and Honey Maple Syrup.
Nature Nate's new products will initially be sold in select Kroger stores in Dallas and Houston in the first quarter, with details on expanded US distribution expected later in the year.
A statement announcing the launch said: "Nature Nate's new line of honey-based products provide customers with alternatives to nut butters, jams and syrups that are laden with fillers, preservatives and artificial sweeteners."
Bellisio Foods Boston Market frozen meals debut in Thailand
Bellisio Foods is launching a range of Boston Market frozen meals in Thailand for the first time.
The US-based frozen-food maker, owned by Thailand's Charoen Pokphand Foods since 2016, is bringing four "top-hit menus" to the South east Asian nation, which are available in CP Fresh Mart and 7-Eleven stores. They will arrive in other leading supermarkets in March.
Priced at THB149-THB155 (US$4.67-US$4.86) per pack, the range takes in:
– Salisbury Steak – two steak patties in gravy with macaroni & cheese
– Beef Steak & Pasta – seasoned beef in mushroom gravy over pasta
– Chicken Parmesan – breaded white meat chicken & spaghetti with marinara sauce & mozzarella cheese
– Chicken Fettuccine Alfredo – grilled white meat chicken, fettuccine & broccoli in a creamy Alfredo sauce
"CPF also sees an opportunity to market these products in Asia, which shows high economic growth potential," according to a statement to mark the launch.
Bahlsen adds to UK line-up
Germany-based snacks group Bahlsen has launched another range of biscuits in the UK.
Bahlsen, which already markets Choco Leibniz in the UK, calls Choco Moments its "most indulgent chocolate biscuit yet" and is targeting "a new, younger consumer profile". The new biscuits have a thicker chocolate topping.
The 120g packs, which have a recommended retail price of GBP1.99 (US$2.83), contain six biscuits They are available in Tesco and Booths, before rolling out to chains including Sainsbury's, The Co-op and Waitrose next month.