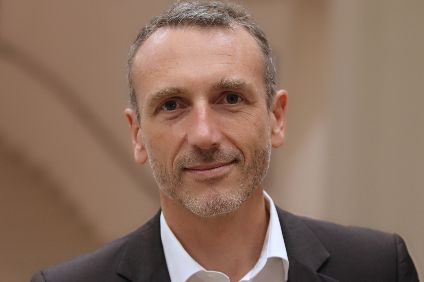 The most-read interviews on just-food in 2018 featured giants of the industry like Nestle , PepsiCo and Danone , as well as SMEs focusing on some of the fast-growing trends shaping the sector.
"I've never seen this pace of change in the industry" – Nestlé 's US strategy chief on trying to grow again in its largest market
In 2017, the Lean Cuisine and Gerber maker saw its growth stall in the US. How is the food giant looking to kick-start its business in a market going through profound change? In July, Dean Best caught up with Rui Barbas, chief strategy officer for Nestlé's US arm, to find out more.
Greencore CEO Patrick Coveney on leaving US market and focusing on UK – the just-food interview, part one
In the first of a two-part interview, published in November, Greencore CEO Patrick Coveney talked to Dean Best about the private-label manufacturer's decision to quit the US and focus on the UK market.
PepsiCo's Amat: "What good means in our industry today is just faster and more nimble than it ever has been"
The ice-cream maker who turned down Dragons' Den investment – Coconuts Naturally's Cecily Mills, the bitesize interview
Cecily Mills, the founder of UK vegan ice-cream brand Coconuts Naturally , won investment on UK business pitch TV programme Dragons' Den only to turn it down after the show aired. In September, she explained her thinking to Andy Coyne and told him about dealing with growing pains.
"Agility puts you in the game" – PepsiCo on its European incubator Nutrition Greenhouse
Amid the changes being seen in the food consumers are buying and in how they shop, the world's major manufacturers are seeing sales come under pressure and are looking to try to breathe fresh life into their top lines. PepsiCo's European incubator, Nutrition Greenhouse, returned for a second year and Dean Best spoke to the US giant's Juan Ignacio Amat to find out more.
"We see ourselves as the new Birds Eye for a modern generation" – Strong Roots founder Samuel Dennigan on his plans for the frozen vegetable brand – the bitesize interview
Samuel Dennigan, 32, set up his Ireland-based frozen vegetable products business Strong Roots in 2015 and it has quickly gained listings on both sides of the Irish Sea. But Dennigan's only just getting started, he told Andy Coyne in July.
"We will take plant-based to the next level" – Naturli' Foods CEO Henrik Lund on Danish firm's push into meat-free
This summer, Denmark-based Naturli' Foods become the latest meat-free supplier from Europe to cross the English Channel to try to tap into the UK's growing interest in plant-based food. Dean Best spoke to Naturli' CEO Henrik Lund in London as the company marked its debut in the market.
Danone CEO Faber: "I see direct business benefits of B Corp and this is what I am going to tell our investors"
Snacks giant Pladis sets out stall for rapid growth in North America – interview
Pladis, the UK-based, international snacks arm of Turkey's Yildiz Holding, is looking to scale up quickly in North America, a market that accounts for just 6% of sales and where it is doing battle with some major competitors. In June, Dean Best spoke to regional CEO Brian Blanchard to find out more about the plans the McVitie's and Godiva owner has for the market.
"We want to create disruption" – Good Catch's Chad Sarno on the rise of plant-based seafood, the bitesize interview
Until now the plant-based food phenomenon has centred on replacing meat and dairy products but New York's Good Catch is among the upstarts to have created vegan 'seafood'. In September, One of its founders, Chad Sarno, told Andy Coyne of the challenges it has faced and its hopes for the future.
"B Corp is very relevant for the food industry today" – Danone CEO Emmanuel Faber on French giant's work on the certification
Danone has been one of the major food corporations implementing B Corp certification, which takes into account all stakeholders, rather than holding as pre-eminent the return to a company's shareholders. In April, Ben Cooper spoke to group chairman and CEO Emmanuel Faber about his support for that way of codifying a food business.
"E-commerce is impossible to ignore" – Arla's Steve Millard on how the dairy giant is looking to grow online
How can food manufacturers tap into the growth of the online channel? In March, Dean Best met Steve Millard, the head of Arla Foods' e-commerce and digital unit in the UK, to find out more about how the dairy co-op is faring online.