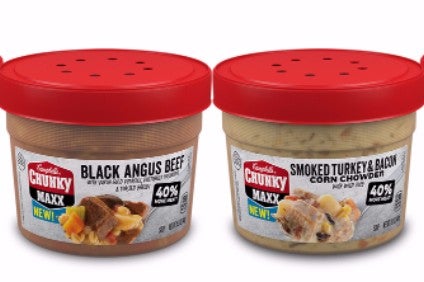 Daniel Loeb, the activist investor putting pressure on US food giant Campbell Soup Co. to sell off the business, has put forward 12 challengers to contest the board of directors' seats at the next annual general meeting.
Loeb, whose US-based Third Point hedge fund owns 5.65% of New York-listed Campbell, ratcheted up the ante last week when the company announced it plans to ditch its international fresh foods and refrigerated foods businesses to focus on its key North American market.
Amid disappointment expressed by Loeb over that decision, he has today (7 September) put forward his candidates to replace Campbell's entire board, according to a letter circulated by the New Jersey-based firm.
While Loeb has previously agitated for change at Campbell, he went further in his latest salvo.
"In Third Point's previous proxy contests, we have sought only a few board seats to influence governance and implement change," the letter stated. "Unfortunately, this board's persistent failure to discharge its fiduciary duties leaves us no choice but to seek to replace the entire board with our shareholder slate."
It went on to say: "Today, the shares of Campbell trade at a price that is circa 20% lower than it was 20 years ago. The stock performance is a report card on this board's tenure of mismanagement, waste, ill-conceived strategy, and inept execution."
Loeb's nominees include the former chief executive of US-based Hostess Brands, William Toler, and Michael Silverstein, an executive at Carlyle Group. George Strawbridge, a fellow Campbell shareholder and family member, also features on the list.
The list of other executives and professionals put forward by Loeb reads as Larry Karlson, former chairman and CEO of Berwind Financial; Sarah Hofstetter, chairwoman of 360i; Bozoma Saint John, chief marketing officer of Endeavor Co.; Kurt Schmidt, former director and CEO of Blue Buffalo; Raymond Silcock, CFO of International Nutrition & Wellness Holdings; David Silverman, CEO of CrossLead; and Franci Blassberg, a lawyer at Debevoise & Plimpton.
In a response to the Third Point statement, Campbell interim president and CEO Keith McLoughlin said: "On August 30th, Campbell announced the results of a comprehensive board-led strategy and portfolio review to stabilise the company, improve performance and drive shareholder value. As part of the review process, the board, together with outside advisors, considered a full slate of strategic options and determined that the best path forward to maximise shareholder value, at this time, is to optimise the company's portfolio, divest certain businesses and pay down debt, and further reduce costs.
"The company is currently focused on implementing that plan and setting the foundation for sustainable, profitable growth in fiscal 2020 and beyond. The board remains open and committed to evaluating all strategic options to enhance value in the future."
just-food analysis – What will it take to pacify investors in Campbell Soup Co.?