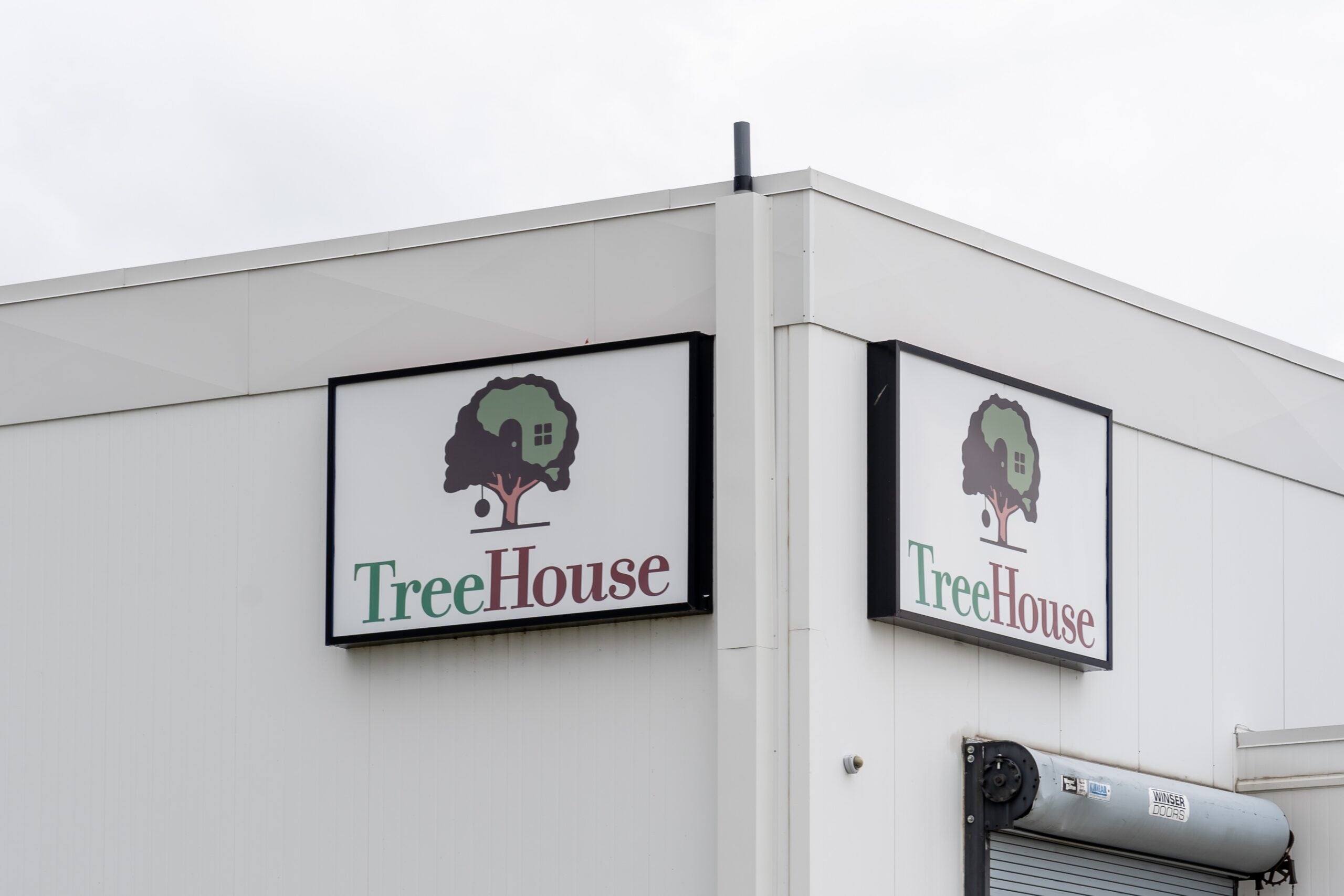 TreeHouse Foods has flagged the possibility the US private-label business may be sold as the company slashed its earnings guidance.
The company said today (8 November) its board of directors has approved a plan to "explore strategic alternatives".
TreeHouse's options include "a possible sale of the company or a transaction to allow the company to focus on its higher growth snacking and beverages business by divesting a significant portion of its meal-prep business".
It added: "The determination follows the company's ongoing, board-led strategic review which began earlier this year."
In a separate announcement, TreeHouse cut its outlook for sales and earnings per share for the second time this fiscal year, with full-year guidance for adjusted EPS reduced by almost half. The largest own-label supplier in the US noted pressures from labour shortages and supply chain disruptions, adding the "current operating constraints are expected to limit the company's ability to service strengthening demand".
Under president and chief executive Steven Oakland, TreeHouse has undergone a restructuring process over the past three years, slashing SKUs in an effort to improve profit margins. As part of that endeavour, the company sold the ready-to-eat cereals business this year to US peer Post Holdings. TreeHouse has also expanded the portfolio with the purchase of pasta brands from Ebro Foods in 2020 and as recently as August hinted at engaging in M&A.
However, the group came under pressure earlier this year with the emergence of an activist investor, New York-based hedge fund Jana Partners, which acquired a 7.3% interest in the business in February. At the time, analyst John Baumgartner, then working at Wells Fargo, suggested a leveraged buyout could be on the cards.
"Jana has had, and intends to continue to have, constructive discussions with the issuer's board of directors and management regarding avenues to resolve the issuer's undervaluation and total stockholder return, including evaluating a sale of the issuer, operations, capital allocation, corporate governance and compensation practices," Jana said in February.
Ann Sardini, the chair of TreeHouse's board, explained the rationale in a statement today: "The board's decision to explore strategic alternatives follows careful consideration as well as engagement with many of our shareholders over the past year.
"The TreeHouse team has executed a major transformation since 2018, improving the ability to support its private-label customers and navigate a challenging operating environment. This progress and the strong long-term consumer demand trends for private label provide a favourable backdrop as the board thoroughly reviews and considers strategic options with a commitment to maximising value for all shareholders."
Despite reporting third-quarter sales increases for both snacks and beverages, and meal preparation, TreeHouse provided an inkling of the pressures it is under with pasta revenues accounting for 3.2% of the group's 5.3% growth in the three months to 30 September.
Total sales reached US$1.1bn in the quarter, with snacks and beverages contributing $411m (+7.4%) and meal prep $690.2m (+2%). But adjusted earnings per diluted share from continuing operations fell from $0.71 to $0.46.
Sales for the year are now expected in a range of $4.2bn to $4.325bn, and EPS at $1.08-1.28. In August, the sales target was cut to $4.2bn to $4.45bn (from $4.4bn to $4.6bn) and EPS was lowered to $2.00-2.50 (from $2.8-3.2).
Oakland added today: "We continue to be confident in our ability to capitalise on the strong long-term fundamentals of our business. We remain committed to serving our customers and supporting our employees as the board conducts this review. We are proud of the progress we have made to improve our efficiency and the actions we are taking to drive growth, optimise our portfolio and support our customers."
TreeHouse's operating income dropped 35% in the third quarter to $25.8m, while net profit slid 44.6% to $6.7m.
Over the nine months to date, sales were almost flat at $3.16bn versus $3.17bn and operating income dived 57% to $40.9m. Net profit was $16.6m, compared to a $20.6m loss in the corresponding period.
CFO Bill Kelley said the third-quarter results "were in line with our expectations" as TreeHouse instigated price increases to compensate for higher input costs equal to three percentage points of the 5.3% growth for the group.
"We continue to work diligently to mitigate supply chain disruption, and we are confident that we are implementing the necessary pricing actions to recover higher input costs over the inflationary cycle," Kelley said.
TreeHouse said it has not set a timetable in which to complete the strategic review. "There can be no assurance that the exploration of strategic alternatives will result in a transaction or other strategic changes or outcomes," it added.