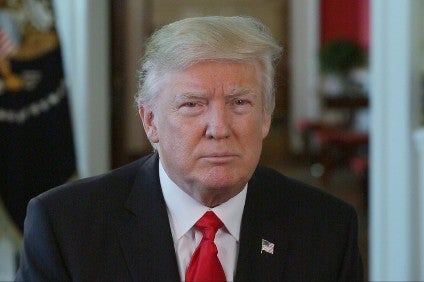 US President Donald Trump appears to have capitulated on his pledge to impose import tariffs on steel and aluminium from the European Union and six other countries.
Earlier this month, Trump decided to impose a 25% tariff on foreign-made steel and 10% for aluminium in response to a national security investigation he initiated last spring. The move was part of the Administration's second annual trade policy agenda, emphasising "aggressive" enforcement of US trade laws and limiting the role of the WTO.
Last week, in response, The European Commission released a draft list of products that could be subject to retaliatory EU safeguard duties, including sweetcorn, maize, kidney beans, rice and peanut butter.
US trade representative Robert Lighthizer reportedly told a Senate committee hearing the EU will be exempt from the tariffs, along with Australia, South Korea, Brazil, Argentina, Mexico and Canada.
Lighthizer told the Senate that Trump had decided to "pause" the import duties while further discussions took place. The tariffs of 25% on steel and 10% on aluminium were due to come into force today (23 March).
The US trade representative said: "The idea that the president has is that, based on a certain set of criteria, that some countries should get out. There are countries with whom we're negotiating and the question becomes the obvious one that you think, as a matter of business, how does this work? So what he has decided to do is to pause the imposition of the tariffs with respect to those countries."
A key element of US President Donald Trump's administration since he took office is to secure more favourable trade conditions for US companies and protect jobs.
Trump, meanwhile, yesterday signed an executive order to instruct Lighthizer to levy tariffs on around US$50bn of imports in China.
Canada and Mexico are in the midst of negotiations with the US over the North American Free Trade Agreement (NAFTA), which Trump has threatened to leave after 24 years due to trade deficits with those countries as he seeks to protect local manufacturing and jobs.
The New York Times, which claims to have seen confidential documents outlining the US position, reported earlier this week that Washington is using the talks with Mexico and Canada to try to limit the ability of the pact's three members to inform consumers about the nutrient make-up of the food they buy.