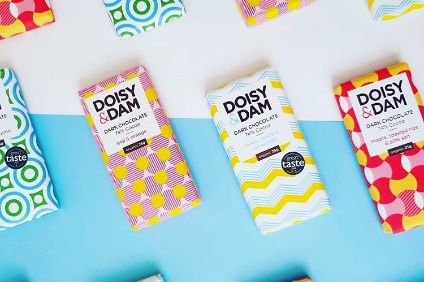 Doisy & Dam, the fledgling, UK-based chocolate business, is embarking on a new round of fundraising to invest in marketing and to help support sustainability initiatives in Colombia.
Rich Wilkinson, one of Doisy & Dam's two co-founders, said the firm, set up in 2013, was looking to raise around GBP1m in its latest round after crowd-funding two years ago.
Wilkinson said the company was looking to work with investors who are "certainly within food", with an aim to close the fundraising "before 2019".
"We've got really good distribution but we haven't got enough marketing budget, so we want to just make the most of where we are," Wilkinson said.
London-based Doisy & Dam generates all of its revenue in the UK, where it has secured listings with retailers including Sainsbury's, Boots and WHSmith. "We've got great listings … where we can get a lot of visibility. We're looking to do it at the point of sale."
Part of the funding will be put towards initiatives in Necocli, a town in northern Colombia that Wilkinson said had been affected by the country's problem with drug cartels.
"We want to bring this into a fundamental part of the story. We think it will resonate with our customers," Wilkinson told just-food. "I don't think people anymore are happy to just take the front of pack as read. They care more about what's in the bar and how it's got to being in the bar, particularly with commodities like cocoa and coffee, commodities that have slightly murky supply chains."
The Doisy & Dam product proposition is high-end, organic Colombian chocolate, marketed in flavour combinations incorporating 'superfood' ingredients, such as goji berries, baobab fruit and Himalayan pink salt.
In a bid to continue to grow sales, Doisy & Dam is eyeing the development and launch of more "sharing" formats and securing business with travel-based customers, Wilkinson said.
He added the company would next year start to look at markets outside the UK. "That's something we're going to start to look at early 2019. We want to do it properly. We could start sending pallets out all over the world; we get plenty of interest. We'd rather do it with one distributor who knows the market, knows how we'll work, who we can share a marketing budget with and nail one country."
In June 2017, Doisy & Dam announced it had been awarded B Corp certification. B Corps are enterprises certified by the US-based non-profit B Lab as meeting "rigorous standards of social and environmental performance, accountability and transparency".
Last week, Unilever and Danone announced more of their subsidiaries had also secured the certification. Asked what he thought about multinational food companies showing greater interest in the certification, Wilkinson said: "I think it's great. I know people think it's wrong to have these big multinationals coming in [but] as long as they've passed their B Corp certification, if they've got the credentials, they've got the credentials."
Among the Unilever units that are B Corps are Sir Kensington's, the US condiments maker the consumer-goods giant bought last year.
Wilkinson said: "[B Corp] also enables companies to retain a sense of independence after acquisition. B Corp certification adds value, so once multinationals have paid for that added value, they're not going to want to dismantle and get rid of it straight away."