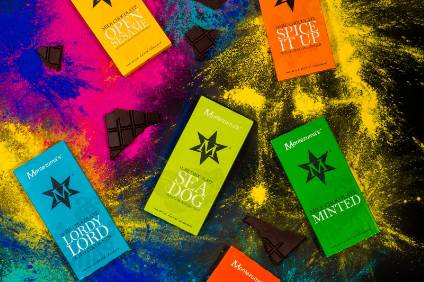 Montezuma's, a UK-based chocolate supplier and retailer, has become the latest food manufacturer to sell shares to an investment firm focusing on the FMCG sector.
Edinburgh-based Inverleith, headed by banker Ben Thomson and former LVMH executive Paul Skipworth, has acquired a majority stake in Montezuma's for an undisclosed sum.
Montezuma's was set up in 2000 and sells chocolate through retailers including Sainsbury's and Morrisons, as well as its own stores in London and the south east of England. The firm has a plant in Chichester in the south of England.
Founders Helen and Simon Pattison will "after a period of transition … step back from the day-to-day running of the business" but remain "ambassadors and directors for the company", Inverleith said in a statement.
Mr Pattison said: "We feel Inverleith fully understands the brand's future, shares our continued passion for what we have developed and will ensure that we capture new opportunities for the brand both at home and overseas."
Michael Atkinson, Inverleith's operating and brand director, told just-food Montezuma's "currently has a limited international footprint and the company sees this as an opportunity moving forward".
Atkinson said: "It has a good presence in the USA with a listing with Trader Joe's. It's also in China, Hong Kong [and] the Middle East."
Skipworth added: "Montezuma's is a fantastic addition to Inverleith's expanding portfolio of consumer investments. Montezuma's long-standing ethical position and track record of innovation position the brand perfectly to capture strong consumer desire for authentic, premium [and] artisanal brands. Montezuma's is a quality British chocolate manufacturer with exciting product innovation in areas such as dark, 100% cocoa, flavoured and vegan and non-dairy chocolates. It is already a leading player in the high growth segments of the chocolate market with enormous opportunity for the brand both in the UK and internationally."
Inverleith's other investments include Braham and Murray, the company behind UK hemp food-and-drink brand Good Hemp, UK sparkling wine business Chapel Down and local fruit-and-vegetable crisp manufacturer Emily's Crisps.