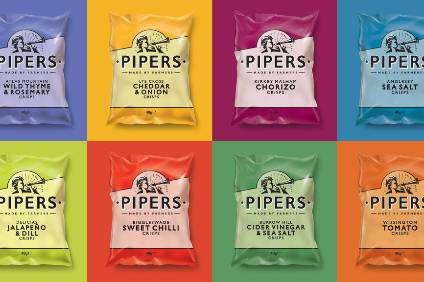 The UK's competition watchdog is inviting feedback from any concerned parties over the recently-announced deal by PepsiCo for the country's snack brand Pipers.
Food and beverage giant PepsiCo announced last month it was set to acquire Pipers, which supplies pubs, restaurants, cafes, hotels and farm shops in the UK, and also exports overseas. However, the company said at the time the deal for the Lincolnshire-based firm was subject to clearance from the Competition and Markets Authority (CMA).
The CMA said today (7 December) it has launched an initial phase-one enquiry into the deal, seeking to ascertain whether there are any conflicts over competition or valid causes for concern among interest parties.
No deadline has been set by the CMA for the phase-one invitations.
Pipers was founded in 2004 by three farmers – Alex Albone, Simon Herring and James Sweeting. Upon announcing the acquisition, for an undisclosed sum, US-based PepsiCo said the deal for the UK snack brand would complement its existing savoury snacks portfolio.