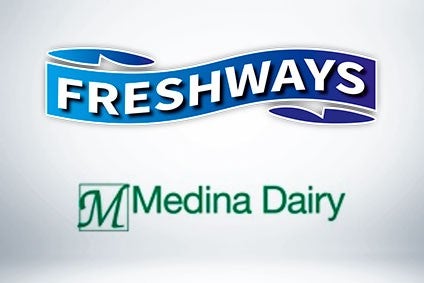 Freshways Dairy and Medina Dairy have reached an agreement to merge after the two UK companies announced they had entered discussions over a potential partnership in February.
The merger, which is subject to the approval of the UK's Competition and Markets Authority, will create a business capable of producing 500 million litres of milk with a combined turnover of GBP400m (US$544.5m).
A merger "will establish a sustainable and progressive dairy business that will be in the best interests of their combined staff, customers and the British dairy farmers that supply them", a joint statement issued yesterday (20 July) read.
It added that a new "complementary" board will be formed, along with a new management structure to oversee the merger, ongoing operations and strategic development of the business. Sheazad Hussain, the CEO of Medina, and Bali Nijjar, Freshways' managing director, will be the joint MDs of the combined company, which will employ 1,000 people.
The two executives said in the statement: "Throughout our discussions, it has become increasingly apparent how complementary both businesses' capabilities and cultures are. As such, through merging we will be able to harness these synergies to create a leaner, more agile and fit-for-purpose business. A business that will benefit customers, consumers and suppliers and ultimately, we believe, will be well placed to grow and develop in a sustainable manner for the long term."
It is expected the merger will be completed by the end of the year if approved by the Competition and Markets Authority (CMA), which has been notified of the development.
Freshways is owned by Nijjar Group Holdings and produces a full range of dairy products including fresh milk, butter and spreads, yogurt, cream, eggs and cheese. It also supplies bread and flatbreads. Medina is present in fresh milk and bread. Both companies serve the retail and foodservice sectors in the UK. Germany-based Unternehmensgruppe Theo Müller and Denmark's Arla Foods are the two biggest milk suppliers in the UK.
The combination of the companies will "create the basis for a viable, long term, fresh liquid milk business", according to the statement.