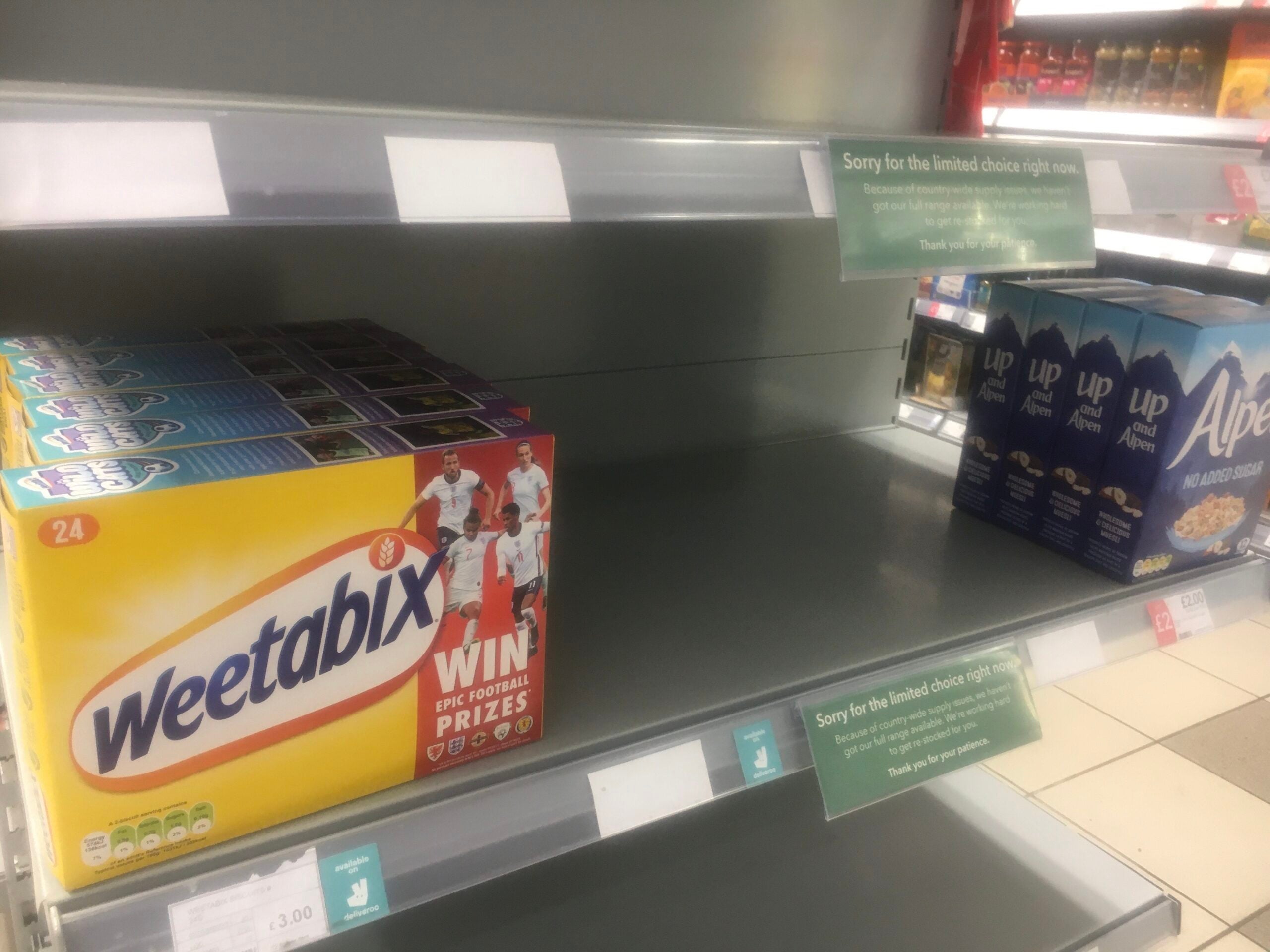 UK consumers may have to get used to some food shortages in supermarkets as the country faces up to a dearth of labour, the head of trade body The Food and Drink Federation has suggested.
Media reports quoted Ian Wright, the chief executive of the representative group for food and drink manufacturers, as saying the shortage of workers is likely to get worse and may not fully recover, blaming the crisis on Europeans leaving the UK in the wake of Brexit and also because of the Covid-19 pandemic.
The entire food supply chain is lacking about 500,000 of the four million workers that are usually engaged in the sector, he told an industry event last week held by the Institute for Government, an independent think tank in London.
Sky News reported Wright as saying: "It's going to get worse, and it's not going to get better after getting worse any time soon.
"The result of the labour shortages is that the just-in-time system that has sustained supermarkets, convenience stores and restaurants – so the food has arrived on-shelf or in the kitchen, just when you need it – is no longer working.
"And I don't think it will work again. I think we will see we are now in for permanent shortages."
However, Wright sought to offer assurances in that "these shortages don't mean that you're going to run out of food".
The worker crisis has particularly been felt in the transport industry, where The British Retail Consortium has estimated there is a shortage of 90,000 qualified heavy goods vehicle drivers, creating bottlenecks in getting food to supermarkets and affecting availability in stores.
Sectors throughout the food supply chain are also facing difficulties in filling vacancies, like crop farmers in areas such as fruit and vegetable picking. The British Poultry Council warned recently of a potential shortage of turkeys for the Christmas festive period unless the Government took action to ease post-Brexit rules on the use of migrant labour.
"What is changing now is that the UK shopper and consumer could have previously have expected just about every product they want to be on a shelf or in the restaurant all the time – that's over, and I don't think it's coming back," Sky News reported Wright as saying.
The publication cited a Government spokesperson as suggesting the challenges could be overcome.
"We have got highly resilient food supply chains, which have coped extremely well in the face of challenges. We believe that will remain the case," the spokesperson said.
"We know there are some issues that are facing the sector. We will continue to speak and liaise with those involved in those industries to try to ensure we can help them as much as possible."