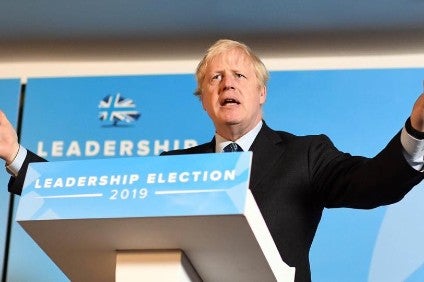 UK industry body The Food and Drink Federation (FDF) has warned new Conservative Party leader – and soon-to-be Prime Minister – Boris Johnson a no-deal Brexit could do "mortal damage" to the sector.
Johnson was elected as the new leader of the Conservative Party today (23 July), defeating opponent Jeremy Hunt in a ballot of party members, and is set to become UK Prime Minister tomorrow.
A supporter of Brexit, Johnson has said the UK will be leaving the EU on 31 October with or without a trade deal with the remaining 27 bloc members.
But the FDF has today warned against taking the no-deal option, suggesting under that scenario the country could face food price rises, shortages and disruption.
Ian Wright, the FDF's chief executive, said: "The UK's largest manufacturing sector, food and drink, is central to our critical national infrastructure. The industry employs more than 450,000 people across the nation. UK food and drink is globally renowned for its quality, provenance and taste.
"The industry's recently published 'Plan for Success' demonstrates how we can make the UK's GBP4bn (US$4.97bn) food chain the most dynamic, sustainable and competitive in the world. It shows how – working in partnership with government – we can boost exports, develop talent and encourage innovation.
"A no-deal Brexit would destroy that opportunity and much more. It will inflict serious and – in some cases mortal – damage on UK food and drink. Prices will rise, there will be significant shortages of some products, and disruption for shoppers and consumers will be far reaching."
"We urge the new Prime Minister and government to work with us to deliver a withdrawal agreement that guarantees the closest possible trade and regulatory relationship with our nearest neighbours so UK food and drink can flourish."
Among the challenges of leaving the EU is finding a solution to issues such as future trading between Northern Ireland – part of the UK – and the Republic of Ireland, which remains an EU member.
The European Commission has said repeatedly that it will not tolerate a 'hard border' being re-introduced on the island of Ireland and earlier this month a report from a UK government body warned that as many as 40,000 jobs are at risk in Northern Ireland in the event of a no-deal Brexit with the agri-food industry highlighted as one of the industries most in danger.
Further up the supply chain, the president of the UK's National Farmers' Union called on Johnson to "do everything in his power to ensure that our departure from the EU is carried out in a smooth and orderly way".
NFU president Minette Batters said: "A deal with the EU is crucial to maintaining free trade with our closest neighbours and largest trading partners, as well as access to people that want to come to the UK to work on farms."