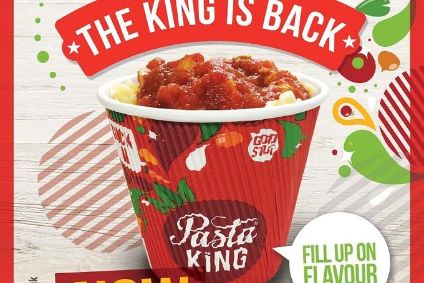 The former CEO of Northern Ireland-based crisp maker Tayto has joined forces with another Ulster-based businessman to acquire the English foodservice business Pasta King for an undisclosed sum.
The business, based in Devon in England's south west, supplies schools and other public and private sector outlets with grab-and-go meals, mainly pasta and made-to-order sauces.
It has been bought by Paul Allen, the former CEO of Tayto Group, and Michael Blaney, who was owner and CEO of Autoline Insurance Group in Northern Ireland prior to selling the business in 2018.
Established in 1994, Pasta King employs 55 staff at its headquarters in Newton Abbot, including a countrywide network of field sales managers.
It supplies meals into the primary and secondary education sector in the UK and has a growing presence in the health, leisure and care sector. It has annual turnover of around GBP8m (US$10.3m) and operates through a network of 19 regional distribution centres.
Allen said: "As a healthy and tasty food offering, Pasta King has become very popular in primary and secondary schools across the UK and satisfies government standards on salt, saturated fat and vegetable content."
He added: "In addition to its leading position in the UK's education sector, Pasta King has a growing presence in universities, business and industry, the leisure sector and healthcare establishments. The company is in a strong position and there are a wide range of expansion opportunities to explore such as our recent trialling of a range of single serve café meal boxes for the retail and healthcare sectors.
"There are significant synergies between Pasta King and the many other businesses that Michael and I have worked with in our careers to date. We believe that our combined insight into the market, coupled with our extensive network, will further Pasta King's growth. We hope to build on this acquisition and look forward to working closely with the dynamic team at Pasta King."
Last year, Allen acquired McErlain's Bakery in Magherafelt, Northern Ireland, before he left his role as Tayto CEO in February.
Pasta King has recently launched a range of curries and Mexican concepts such as burritos and nachos and the new owners said they are exploring the "production of own-label sauce solutions and ready meals for a number of customers."