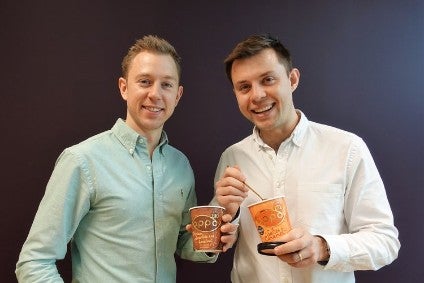 Oppo Brothers , the fledgling UK ice-cream supplier, is set to launch plant-based products this spring at home and overseas.
In an exclusive interview with just-food, Oppo Brothers co-founder Harry Thuillier outlined the London-based firm's plant-based plans.
"We've got our plant-based products coming out in March," Thuillier, who set up the company with brother Charlie in 2014, said. "We've got a small UK launch and then we are launching in the Netherlands.
"We've been working on that for the best part of three years because we really just wanted to make sure we weren't going to compromise on taste. It's two products we are launching initially (500ml tubs), and I think that they are every bit as good as the regular dairy line. We've just been making sure we get the flavour right. We have a base but we've replaced it with coconut and rice to get the similar experience you should get with milk."
Oppo Brothers has secured listings in the UK with Sainsbury's and Waitrose, with its home market being its largest by sales but "closely followed" by the Netherlands and Germany, Thuillier said.
Annual sales are expected to reach around GBP5m (US$6.5m) in the year to the end of March 2020.
Entrepreneur and billionaire Dr. Hans-Peter Wild, the owner of the Capri-Sun drinks brand, owns a majority stake in Oppo Brothers after investing in the business in 2019.
Oppo Brothers co-founder Harry Thuillier on UK ice-cream firm riding wave of interest in healthy indulgence – the bitesize interview