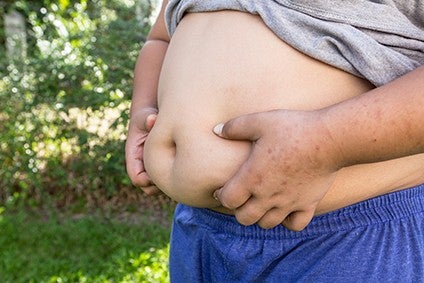 A report from the UK's National Audit Office (NAO) has called for more urgency from the country's government in its attempts to tackle childhood obesity.
The report, published today (9 September), said "it is not clear that the Department of Health & Social Care's (DHSC) current programme will be able to make the step change needed in the [government-implemented] timescale available".
It also suggested sugar reduction targets will not be met.
The NAO – an independent Parliamentary body responsible for auditing UK government departments – said in 2018/19, 9.7% of four- to five-year-olds and 20.2% of ten- to 11-year-olds in England were obese.
Children in deprived areas are twice as likely to be obese than those in less deprived areas, the report said, adding rates for black children are higher than for white children.
The report said the UK government estimates the cost of obesity to the National Health Service is GBP6.1bn (US$7.87bn) and GBP27bn to wider society.
"Governments have tried to tackle childhood obesity, but with limited success. In 2016, the Government launched a new childhood obesity plan, which has a challenging aim to halve childhood obesity and reduce the gap in obesity between children from the most and least deprived areas by 2030," it said.
"The plan has many similar themes and interventions to previous strategies but includes more legislative regulatory action such as taxation. The NAO found that DHSC has not fully evaluated the success of past strategies, meaning it will struggle to prioritise actions or apply lessons to its new approach with confidence of success."
It also highlighted that although the DHSC runs the Childhood Obesity Programme, which oversees the delivery of the plan, the cross-government nature of the programme means many of its projects are outside of DHSC's control.
"There is also limited awareness and co-ordination across departments of wider factors and activities that may impact on childhood obesity rates, such as sponsorship of sporting events by the food industry, which makes it difficult to ensure they are compatible with the overall aim of reducing childhood obesity," it said.
It described progress on the programme's key aim to reduce sugar and calories as "mixed".
It added: "HM Treasury introduced a tax in March 2016 to encourage industry to reduce sugar in certain drinks, which raised GBP240m in 2018-19. PHE [government agency Public Health Agency] has made some progress with encouraging industry to reduce sugar levels in certain products, but government will not meet its ambition for industry to reduce sugar by 20% in products by 2020."
In 2017, PHE set out guidelines for food manufacturers operating in the country to reduce sugar by 20% in the top nine categories of products providing sugar to children's diets by 2020.
Last September, a progress report showed manufacturers cut sugar in foods consumed in the home by 2.9% when measured by the weighted average sugar content per 100 grams.
In July this year, the UK government unveiled a series of measures to try to tackle what it called the overall "obesity time bomb" in the country, setting out plans to restrict advertising and promotions.
Commenting on the measures, the NAO report said: "While not all of these measures are specifically targeted at children, some of the measures, such as the 9pm advertising watershed, are part of the programme. The new strategy did not include other elements of the programme, such as the ban on selling energy drinks to children which DHSC committed to in July 2019."
It said that by autumn 2021, the DHSC, with support from the Cabinet Office, should introduce stronger procedures that allow it to hold other UK government departments responsible for delivering their elements of the programme.
"In the proposed spending review, the government should target support and funding to local authorities and groups who have the greater obesity problems. DHSC should also provide greater support to local authorities to help them implement efforts to reduce childhood obesity," it said.
Gareth Davies, head of the NAO, said: "Tackling childhood obesity is a major challenge, and one that governments have struggled with since the 2000s. It is clear that children living in deprived areas or from ethnic minorities are far more likely to be obese and the problem is worsening.
"Progress with the Childhood Obesity Programme has been slow and many commitments are not yet in place. The new strategy announced in July has signalled a greater intention to tackle obesity but the government will need to follow through with more urgency, commitment and cohesion if it is to address this severe risk to people's health."
In a statement responding to the report sent to just-food, a DHSC spokesperson said: "We are determined to tackle obesity across all ages and we have already taken significant action – cutting sugar from half of drinks on sale, funding exercise programmes in schools and working with councils to tackle child obesity locally.
"We are also taking bold action through our new and ambitious obesity strategy – banning unhealthy food adverts before 9pm, ending deals like 'buy one get one free' on unhealthy food, and introducing calorie counts on menus – to help families make healthy choices."
Earlier this week, PHE announced the outcome of consultation with industry on a plan by the agency to cut calories in products consumed by families by 20% by 2024. The agency said its analysis of feedback from stakeholders on the goal was it would be "unrealistic" to apply a 20% cut across all categories.
just-food analysis from July 2020: Why UK obesity reset is watershed moment – in more ways than one