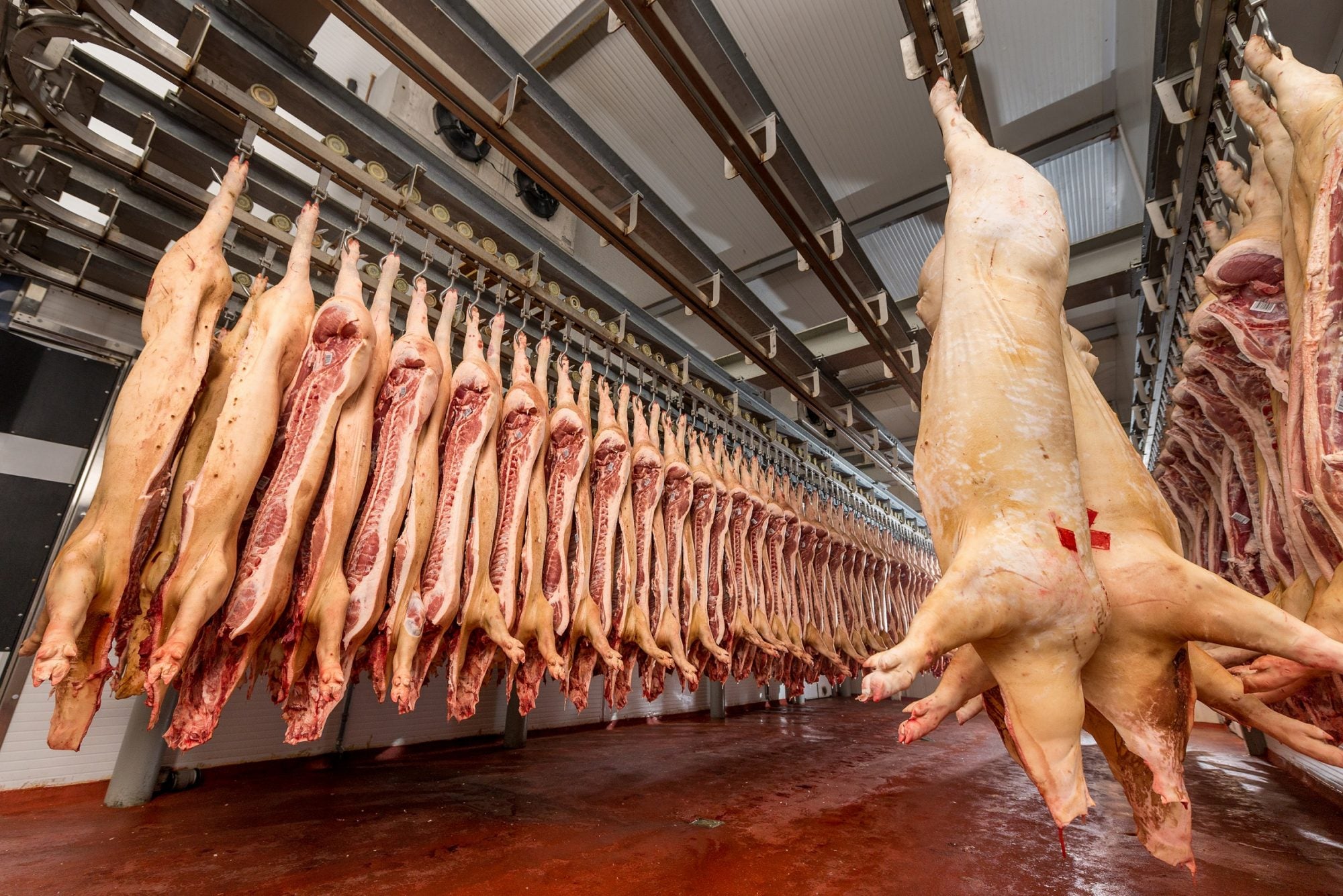 The UK government has announced a series of temporary measures to try to help ease a shortage of lorry drivers and butchers to alleviate bottlenecks in the supply chain.
Heavy-goods vehicle drivers from the EU will be permitted to make unlimited trips in the UK over a two-week period before returning home, instead of the current two per week under so-called cabotage rules, which will be relaxed for up to six months when the measures take effect.
And as the pork industry struggles to process a backlog of pigs for slaughter, UK Environment Secretary George Eustice has announced 800 overseas butchers will be permitted to work in abattoirs under a temporary six-month visa allocation within the Seasonal Workers Pilot Scheme.
Eustice said they will be eligible to apply for the visas up to 31 December and expects the butchers to start arriving in the UK in November.
Nick Allen, the CEO of the British Meat Processors Association, greeted the abattoir measures with some scepticism.
Speaking on BBC breakfast news this morning (15 October), Allen said the temporary visa scheme was a "glimmer of hope for pig farmers" and much will depend on how quickly the applications can be processed, which could be up to three weeks, he said.
The Government announcement was "greeted with howls of anguish across the industry", he added.
Eustice said in a statement yesterday evening: "A unique range of pressures on the pig sector over recent months such as the impacts of the pandemic and its effect on export markets have led to the temporary package of measures we are announcing today. This is the result of close working with industry to understand how we can support them through this challenging time."
Two weeks ago, Lizzie Wilson, policy services officer at The National Pig Association, said the shortage of butchers meant processors were operating at 25% reduced capacity, with about 120,000 pigs waiting on farms to be slaughtered. Some estimates have more recently put the figure at 150,000.
The BMPA's Allen said this morning the body's members have noted they are around 15-20% short of the usual number of pork butchers, who would normally take from 18 months to three years to fully train.
Other measures announced by Eustice yesterday included opening the doors to Saturday abattoir working, the funding of a private storage scheme for pigs in England and a temporary relaxation on pork levy payments for farmers in England and Scotland.
The Government said the storage-aid scheme will enable pork processors to store slaughtered pigs for three to six months for processing at a later date. Further details will be announced "shortly".
On levy payments for pork farmers, the Agriculture and Horticulture Development Board and Quality Meat Scotland agreed to a one-month holiday window for November, which the Government suggested would amount to savings of GBP1m (US$1.3m).
The addition of pork processors through the temporary visa scheme is on top of the "foreign butchers already being eligible since December 2020" through the Skilled Worker Route, the Government said.
It admitted, however: "Temporary visas are not a long-term solution and businesses must make long-term investments in the UK domestic workforce to build a high-wage, high-skill economy, instead of relying on overseas labour."
Consultations on relaxing cabotage rules for HGV drivers were only started yesterday and are expected to last until 21 October. A previous scheme has attracted "limited" interest so far, Oliver Dowden, the Conservative Party co-chair, told a local broadcaster, noting only 20 of 300 applications have been processed.
The Government said in September it would issue 5,000 visas from October to overseas HGV drivers up to Christmas Eve. A subsequent announcement extended the visa scheme to 28 February.
Transport Secretary Grant Shapps said yesterday: "The temporary changes we're consulting on to cabotage rules will also make sure foreign hauliers in the UK can use their time effectively and get more goods moving in the supply chain at a time of high demand.
"To help the road-haulage industry, we've streamlined the testing process and announced thousands of skills bootcamps to train new drivers. These measures are working – we've been seeing up to three times more applications for HGV driving licences than normal as well as a deserved rise in salaries."