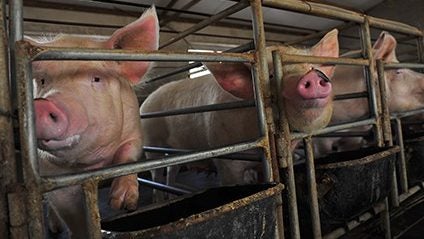 The UK government has been warned it is facing a mass cull of pigs because of a shortage of butchers.
The cull, predicted by The National Farmers Union (NFU) and The National Pig Association (NPA), could result in shortages of pork and pork products on supermarket shelves, they suggest.
Pork processors are suffering from similar pressures on labour that have impacted other parts of the UK food and grocery and supply chain.
A shortage of butchers and slaughterers in the meat processing industry has been exacerbated by Covid-19 – many workers who departed for their home countries during the pandemic have not returned – and the country's post-Brexit immigration policy, which has restricted European Union citizens from working in the UK.
But while the UK government has announced a plan to issue temporary visas for 5,000 foreign truck drivers and 5,500 poultry workers to alleviate labour shortages, it has not done the same for the pig processing industry.
Minette Batters, president of the NFU, told UK broadcaster the BBC a cull of up to 150,000 pigs was "potentially a week, ten days away" because of pork processors not having the capacity to take pigs that are ready for slaughter from farms.
Her words were backed up by Lizzie Wilson, policy services officer at The National Pig Association (NPA), who said the shortage of butchers meant processors were operating at 25% reduced capacity.
"There's about 120,000 pigs sat on-farm currently that should have already been slaughtered, butchered, be within the food chain and eaten by now," she told news agency Reuters.
A British Meat Processors Association (BMPA) spokesperson told Just Food it has been warning of a chronic shortage of trained butchers for some time.
"Our estimates put the shortfall of trained workers with butchery qualifications at around 10,000. As skilled EU workers return home, this number has been steadily increasing since January," the spokesperson said.
"These skills are critical to the continued running of Britain's meat plants. If the number of butchers on a production line falls below the required level, production slows and less food is produced."
The spokesperson added: "Long term, there's a job to do to re-introduce the sector to British workers and demonstrate the breadth of secure, full-time career opportunities available. But this will take time. It takes 18 months to train a new recruit to become a fully qualified butcher."
The BMPA said no short-term support is forthcoming from the Government in the form of access to migrant labour, the "implications for this key industry and Britain's long-term food security will be felt well beyond Christmas".
In a statement sent to Just Food, a UK government spokesperson said: "We understand the importance of seasonal labour and we are aware of the challenges that the pig industry has faced in recent months because of the Covid-19 pandemic and labour shortages, and Defra [the Department for Environment, Food and Rural Affairs] has been working closely with the pig and processing sectors during this time.
"We are keeping the market under close review and continuing to work closely with the sector to explore options to address the pressures industry is currently facing."
Read Just Food's analysis:  UK supply chain crisis – the longer-term options for the food sector