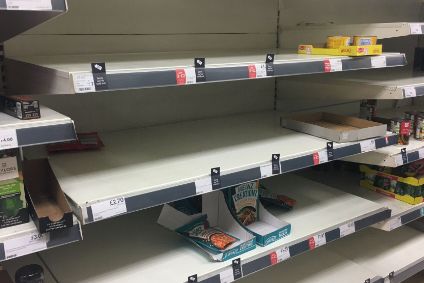 Pressure is building on the UK to bring forward the easing of self-isolation restrictions for the double vaccinated in England, with reports some supermarkets are struggling to keep shelves stocked amid increasing numbers of workers being 'pinged' by the NHS Covid-19 app.
The British Meat Processors Association (BMPA) had already warned last week some of its members might be forced to stop production lines for certain products, and the British Retail Consortium (BRC) has now waded in on the isolation debate.
The BRC's director of food and sustainability, Andrew Opie, has reportedly urged the Government to 'act fast' to allow fully vaccinated retail workers or those who have tested negative for the virus told to self-isolate by the app to be allowed to go to work. Opie said that would "ensure there is no disruption to the public's ability to get food and other goods", according to UK broadcaster the BBC.
Increasing numbers of workers in the food industry and beyond are being instructed by the NHS Covid-19 app to self-isolate after being deemed to be a close contact of someone who has tested positive for the virus. The absences come at a time when the UK food supply chain is feeling the impact of a shortage of qualified haulage drivers, which has also put pressure on supplies.
Meanwhile, positive coronavirus cases are rising in the UK after the almost full easing of restrictions on Monday (19 July) ahead of the relaxation of self-isolation rules on 16 August, when double-jabbed workers will not be required to stay at home.
Opie said the pings are "putting increasing pressure on retailers' ability to maintain opening hours and keep shelves stocked", the BBC reported.
"With community cases soaring, the number of healthy retail staff having to self-isolate is rising fast, disrupting retail operations," Opie said, adding that a fall in the number of available HGV drivers and the rising numbers of people being forced to isolate, was also "resulting in minor disruption to some supply chains".
And Nick Allen, the CEO of the BMPA, has now said some of its members have reported between 5% and 10% of their workforce have been pinged and asked to self-isolate.
"The latest feedback we're getting from the front line is that the shortage of skills and workers for permanent positions is reaching a critically high level. We've heard reports of plants having between 10% and 16% vacancies even before absenteeism due to Covid is factored-in," Allen said in a statement.
"There's a real air of despondency creeping through the industry. Every morning, management meetings in meat plants up and down the country now start with the questions: 'who's turned up to work? What skills are we missing today? and how can we quickly re-arrange our production to keep the plant running?'.
"Depending on which staff show up for work, different product lines will be affected. But, in general, the shortage of workers affects products that require more labour to produce, and it's these lines that are the first to be cut."