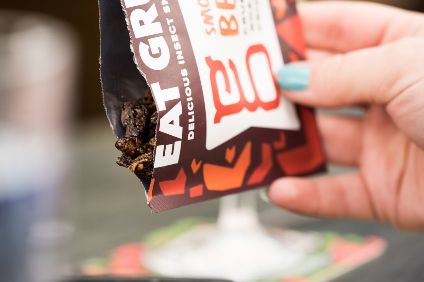 Supermarket Sainsbury's is to start selling edible insects from today, the first major UK grocer to do so.
In a message on social media network Twitter sent yesterday (18 November) confirming the move, Sainsbury's said: "Tomorrow we'll be causing a buzz by being the first UK supermarket to launch edible insects."
It will be stocking London-based Eat Grub's Crunchy Roasted Crickets in 250 stores across the country from today. The bugs, farmed in Europe, come in packets of around 50 priced at GBP1.50 (US$1.92).
Rachel Eyre, head of future brands at Sainsbury's, was quoted in the UK's The Guardian newspaper as saying: "Insect snacks should no longer be seen as a gimmick or something for a dare.
"It's clear that consumers are increasingly keen to explore this new sustainable protein source."
Eat Grub, which confirmed the Sainsbury's move on its own Twitter account, promotes its products as being a sustainable food source that is high in protein.
The Guardian pointed out that the global edible insect market is set to exceed $520m by 2023, according to recent research, and that the UN Food and Agriculture Organization says at least two billion people regularly consume insects.
just-food in-depth: What are the prospects for insect-based food?