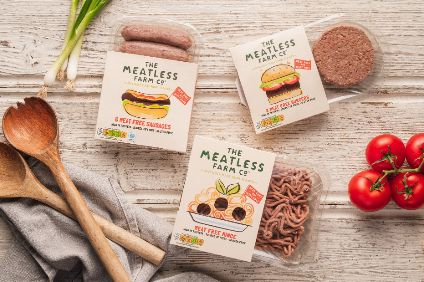 Plant-based protein business The Meatless Farm Co. has added heft to its executive team with the appointment of former Lidl boss Jesper Højer as chairman.
The business, based in Leeds in northern England, said the appointment of Højer is one of a series of hires to help grow the business globally.
The Meatless Farm, set up three years ago, has carved out positions in the UK, as well as in markets including North America and the Middle East.
The appointment of Højer follows Lone Thomsen joining as chief marketing officer from Coca-Cola in September, while earlier this month the company appointed Dr Peter Hynes, who has a background at Unilever, Smith & Nephew and Taylors of Harrogate, as head of research and development.
Højer was until earlier this year global CEO of German discount supermarket chain Lidl, having spent 16 years there.
On his move to The Meatless Farm, he said: "I have been following the market for meat alternatives for some time and The Meatless Farm Co. has a great opportunity to be one of the global leaders in this fast-developing food sector. I am impressed by the quality of both the products and the team, and aim to help build The Meatless Farm Co. into an international business."
Morten Toft Bech, founder of The Meatless Farm, said: "Bringing someone with the global experience of Jesper on board is a marker not only of what we have achieved so far, but also the potential of The Meatless Farm Co. over the next few years. The world is waking up to the need to reduce red meat in our diets, and we are ready to feed the growing demand for plant-based alternatives."
Bech set up The Meatless Farm in 2016, with production starting in 2018. The products are now sold in UK supermarkets Sainsbury's and Morrisons, as well as in Whole Foods Market stores in the US, Dolan Foods in Canada and other international countries.
Its range includes plant-based burgers, sausages and mince.
In September, The Meatless Farm secured investment from UK broadcaster Channel 4. The same month, The Meatless Farm CEO Rob Woodall told just-food the company is looking to set up manufacturing in mainland Europe and in North America.