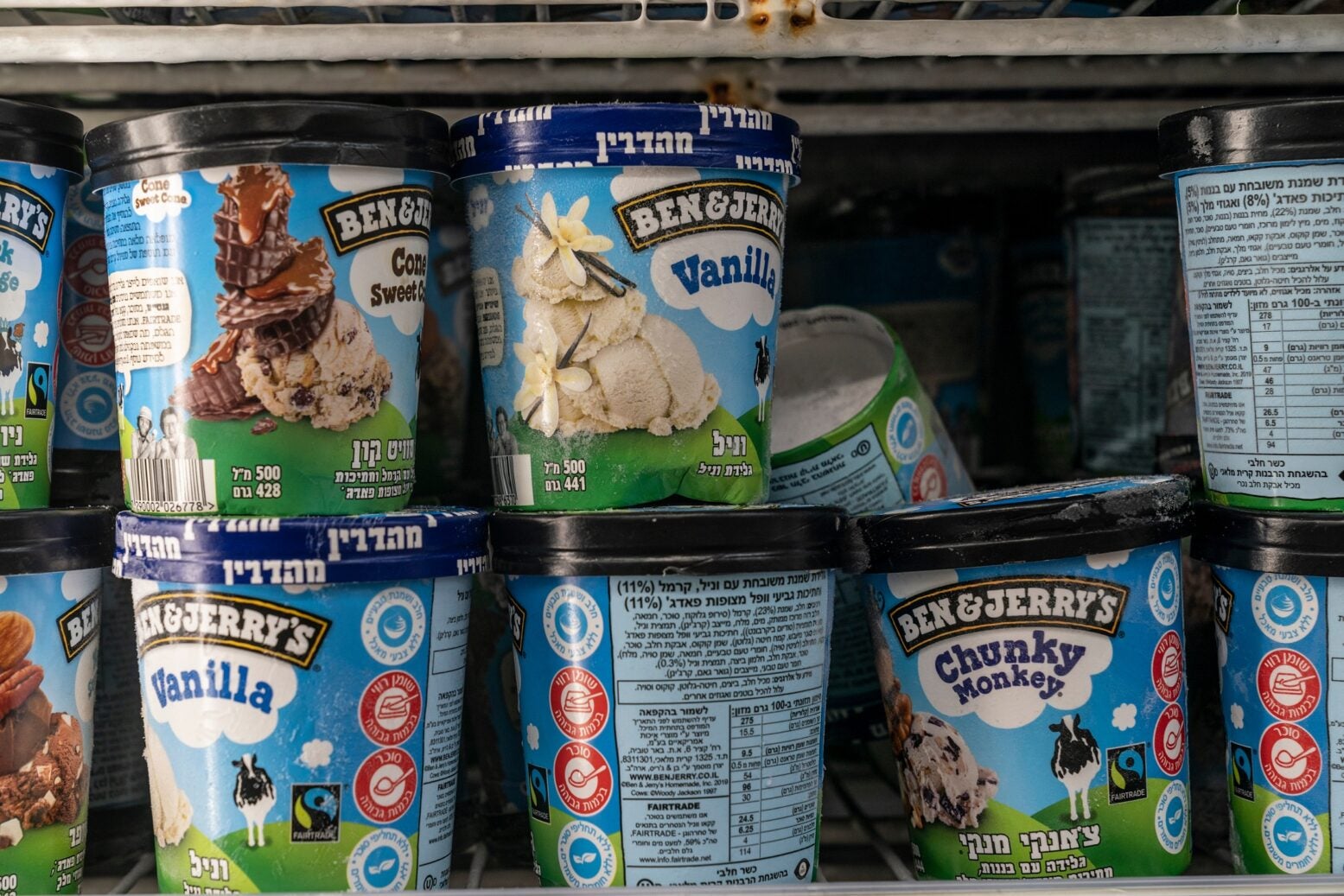 Unilever has sold its Ben & Jerry's ice cream operation in Israel in an attempt to draw a line under a damaging diplomatic row in the country.
The company has sold its Ben & Jerry's business interests in Israel to Avi Zinger, the owner of American Quality Products Ltd (AQP), the current Israel-based licensee, for an undisclosed sum.
However, the decision may create tension between Ben & Jerry's and its owner with the US ice-cream firm tweeting: "We are aware of the Unilever announcement. While our parent company has taken this decision, we do not agree with it."
It added: "We continue to believe it is inconsistent with Ben & Jerry's values for our ice cream to be sold in the Occupied Palestinian Territory."
Ben & Jerry's, founded in 1978 in Vermont by friends Ben Cohen and Jerry Greenfield and acquired by Unilever in 2000, announced last July it would no longer distribute its products in Israel-controlled land in the West Bank and East Jerusalem claimed by Palestine.
The decision, taken independently by Ben & Jerry's – which has a track record of campaigning on social issues – caused an immediate backlash in Israel. The Prime Minister's office said it was a "clearly anti-Israel step".
And pension officials in some US states either restricted or sold Unilever stock or bonds to protest the decision by Ben & Jerry's.
At the time, Unilever CEO Alan Jope talked to Prime Minister Naftali Bennett about the situation and stressed in an analysts' call that "Unilever remains fully committed to our business in Israel" where it has four factories.
In its statement on the disposal of the local Ben & Jerry's unit – issued yesterday (29 June) – Unilever said the deal will "ensure the ice cream stays available to all consumers".
It added: "The new arrangement means Ben & Jerry's will be sold under its Hebrew and Arabic names throughout Israel and the West Bank under the full ownership of its current licensee."
Unilever said under the terms of its takeover of Ben & Jerry's the ice cream maker and its independent board were granted rights to make decisions about its social mission. However, the FMCG group said it reserved primary responsibility for financial and operational decisions and therefore has the right to enter this arrangement.
It added that the new business arrangement follows a Unilever review of Ben & Jerry's in Israel.
"Unilever has used the opportunity of the past year to listen to perspectives on this complex and sensitive matter and believes this is the best outcome for Ben & Jerry's in Israel. The review included extensive consultation over several months, including with the Israeli government," it said.
"Unilever rejects completely and repudiates unequivocally any form of discrimination or intolerance. Anti-semitism has no place in any society. We have never expressed any support for the Boycott Divestment Sanctions (BDS) movement and have no intention of changing that position."
The international BDS movement seeks to pressure Israel to abide by international law in its treatment of the Palestinians. Israel says such boycotts are discriminatory and anti-semitic.
Responding to Unilever's decision to sell Ben & Jerry's local operation, Israel's Minister of Foreign Affairs, Yair Lapid, who revealed he had spoken in the last few days with company CEO Jope and Avi Zinger, said: "Anti-semitism will not defeat us, not even when it comes to ice cream. We will fight delegitimisation and the BDS campaign in every arena, whether in the public square, in the economic sphere or in the moral realm.
"The Ben & Jerry's factory in Israel is a microcosm of the diversity of Israeli society. Today's victory is a victory for all those who know that the struggle against BDS is, first and foremost, a struggle for partnership and dialogue, and against discrimination and hate."
"I'd also like to thank Unilever for the action they have taken to resolve this matter."
News agency Reuters said billionaire activist investor Nelson Peltz, who is joining the board of Unilever next month, was involved in the discussions.