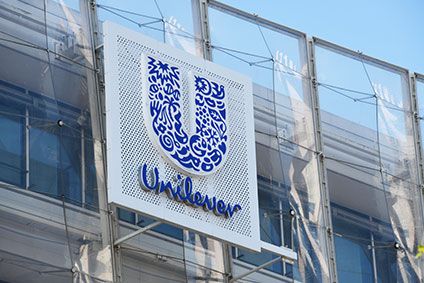 Unilever plans to put carbon-footprint labels on its products identifying the individual greenhouse gas emissions, a project that will start this year either in Europe or North America.
The initiative is connected to the Marmite and Colman's mustard owner's new sustainability targets unveiled last summer, when it committed to net zero emissions across all its products by 2039. In the more immediate term, Unilever aims to halve emissions from its products "across the value chain" by 2030.
A spokesperson told Just Food the carbon-footprint labels will be put on a "small number" of Unilever products later this year either in Europe or North America but at this stage the company is not disclosing what items they will be. No timings have yet been set out for the UK, the spokesperson said.
The finer details of the project were given exclusively to UK newspaper The Independent newspaper, in which Unilever's Marc Engel, its global head of supply chain, said it was driven to action by younger consumers' concerns over the impact of climate change.
'We intend to roll out carbon labels on our entire product range over the next two to five years and believe it will transform not only the actions of consumers, but of the thousands of businesses in our supply chain as well," Engle was reported as saying.
Unilever will use a combination of industrial averages taken from approved databases of actual emissions, Engel said, adding that the labels will be "around 85% accurate".
Meanwhile, Unilever has this week been unveiled by the UK government as the eleventh and final 'principal partner" for the upcoming United Nation's climate change conference (COP26) to be held in Glasgow, Scotland. It starts on 31 October and runs to 12 November.
Unilever's CEO Alan Jope said in a statement "it's not up to governments alone to solve the climate crisis".
"Without decisive action on a global scale, climate change is the biggest long-term risk to Unilever's business, and I know we are not unique in this. Taking decisive action to help address climate change is not only important for people and the planet, it's also critical for business.
"We'll be looking to countries to set ambitious decarbonisation targets, underpinned by a clear roadmap, with milestones for the short, medium and long term. Governments must commit to establishing policy frameworks that give businesses confidence to invest in a net zero future – whether through carbon pricing, renewable energy targets, or regulation to phase out coal and other fossil fuels."
When Unilever announced its new targets last June, the company said it would be introducing a "regenerative agriculture code" for its suppliers to "include details on farming practices that help rebuild critical resources".
Jope continued: "Our consumers also expect our brands to take direct action. Ben & Jerry's advocates for climate justice, Seventh Generation for renewable energy, and Knorr is working with farmers to implement regenerative agricultural practices that also yield better crops for smallholders. This work provides our brands with a platform to secure their business for tomorrow, while making them more relevant and appealing today."