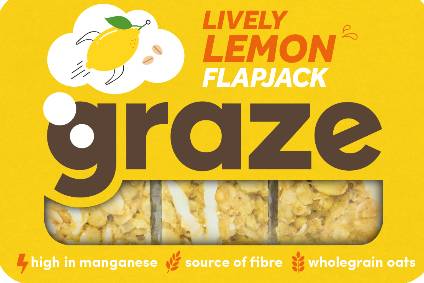 Graze, the UK-based snacks business now owned by Unilever, is planning to lower the sugar in some of its products.
The company is aiming to halve the sugar contained in its flapjacks, "protein bites" and "superfood bites" by 2020.
Graze's first move has been to relaunch its Lively Lemon flapjacks, with the products now containing half the sugar. The flapjacks will now have 13g of sugar per 100g, down from 26g. Graze claimed the amount meant the flapjacks contain "50% less [sugar] than the average cereal bar [at] 6.6g per 53g portion.
The London-based business, said the changes had taken 18 months and involved using chicory root fibre "as a natural alternative to sugar".
Graze, acquired by Unilever earlier this year, said changes to other products would be rolled out "over the coming months". It cited research from IGD that shows 55% of UK consumers are looking to reduce the amount of sugar in their diets.
"Our Lively Lemon flapjacks are just the beginning and we're looking forward to fulfilling our health mission over the coming year," Eleanor Freeman, head of health and nutrition strategy at Graze, said.