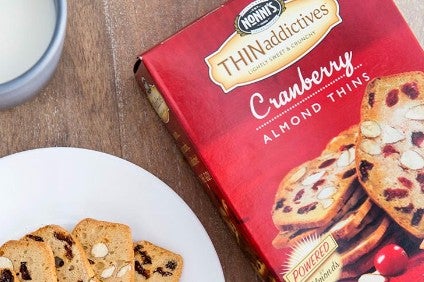 US-based Nonni's Food Group has been sold by current owner Wind Point Partners to fellow private-equity firm Vestar Capital Partners for an undisclosed sum.
Nonni's, a manufacturer and marketer of Italian-inspired cookies, biscotti and other baked snacks, markets products under the Nonni's, THINaddictives, and La Dolce Vita brand names. They are sold through a distribution platform that includes customers in the grocery, mass market, foodservice and online channels.
Brian Hansberry, CEO of Nonni's, said: "We're thrilled to be partnering with Vestar as we look to build upon Nonni's growth and success. The Vestar team's deep consumer experience will be invaluable as we work to expand our customer relationships, enter new channels, and continue to introduce new and innovative products to the marketplace."
Brian O'Connor, managing director of New York-headquartered Vestar and co-head of its consumer group, said: "We see numerous growth avenues for Nonni's premium, established brands. We are excited to be partnering with Brian Hansberry, Chris Puma, and the rest of Nonni's management team to pursue our shared vision for the company."
Nonni's represents Chicago-based Wind Point's third sale of a consumer products company in 2017.
Konrad Salaber, managing director of Wind Point, said: "Nonni's is a great example of how Wind Point's strategy of partnering with top calibre CEOs can transform a business. The Nonni's team executed against a value creation plan that dramatically increased the company's scale, materially enhanced profit margins, and positioned the business extremely well for its next phase of robust growth."
Nonni's operates four facilities in Ferndale, New York, Glendale, Arizona, Tulsa, Oklahoma and Montreal, Canada.
Last week, the Wind Point-backed Evans Food Group, a US-based maker of branded and private-label pork rinds, acquired local peer Gaytan Foods for an undisclosed sum.