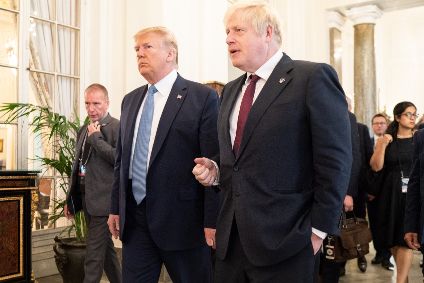 Robert Lighthizer, Donald Trump's top trade negotiator, has described opposition in the UK to imports of US-produced chlorinated chicken as "thinly-veiled protectionism" as he noted a trade deal between the two countries is unlikely before presidential elections in November.
Amid the latest round of trade talks that kicked off on Monday (15 June), Lighthizer told Congress yesterday the US is looking for a comprehensive trade agreement with the UK, with a key requisite being access for American farmers.
The idea of allowing chlorinated chicken imports to the UK has been a major area of contention among the country's ministers since at least 2017. Liam Fox, the Trade Secretary at the time, was said to be open to permitting imports of chicken soaked in chlorine, but the then Environment Secretary, Michael Gove, opposed the proposition amid fears UK food standards would be compromised.
And food standards is an issue also being contested by the European Union in the bloc's own trade talks with the US.
It emerged in UK media reports earlier in June that following preliminary trade talks, the Government is set to open the market to food produced in the US to a lower standard. Farmers' unions in the UK had expressed alarm at that prospect.
But Lighthizer told Congress yesterday there would be no "compromise", adding: "The United States has the best agriculture in the world. It has the safest, highest standards and I think we shouldn't confuse science with consumer preference."
Lighthizer fielded a question on the insistence by the EU and the UK that their existing food standards need to be maintained in any US/EU or US/UK trade deal.
"The European Union has raised this practise of using standards really as protectionism to a high art, and I believe they have," Lighthizer responded.
"And making every regulation science-based is the equivalent of getting rid of protectionism, it's the equivalent of getting rid of any other non-tariff trade barrier. I would say Europe is going in the wrong direction, not in the right direction. They're being controlled by protectionist interests."
Meanwhile, US Senator Chuck Grassley told a gathering of the Senate Finance Committee, of which he is chairman, that there is an imbalance in trade between the two countries which needs to be fixed.
He noted how the US exported US$126bn worth of goods and services to the UK in 2017, while UK companies invested $540bn in the United States. And now the country is out of the European Union, the US seems to be pressing for concessions.
"Unfortunately, those numbers don't reflect our full potential," Grassley told the Committee. "In a large part, EU rules stood in the way. These rules unfairly restricted our agricultural goods without any scientific basis and required duplicative and unnecessary testing for industrial goods.
"Now that the UK has been freed from these EU rules we can bring our economic relationship to a level befitting our long-standing political special relationship."