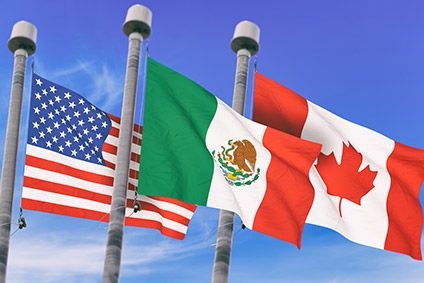 A new trade agreement has been agreed between the US, Canada and Mexico to replace the NAFTA pact.
It is being reported, by news agency Reuters, that to get the deal over the line Ottawa has agreed to provide US dairy farmers access to about 3.5% of its domestic dairy market, despite opposition from Canada's dairy industry.
Reuters is further reporting the Canadian government is prepared to offer compensation to domestic dairy farmers hurt by the deal.
Such details have not yet been officially revealed but, if true, could elicit a response from Canadian dairy lobby groups that have spoken out against such a deal in recent weeks.
On 19 September, Mathieu Frigon, president and chief executive officer of The Dairy Processors Association of Canada (DPAC) said in a statement: "We remain steadfast in our belief that any outcome of a final NAFTA deal must contribute to the economic growth of both dairy farmers and processors.
"The dairy sector, the hard-working Canadians it employs, and billions of dollars in investments made by its farmers and processors, are worth fighting for."
He went on to say "market access commitments made by the Canadian government via previous free trade agreements, including the Comprehensive and Progressive Agreement for Trans-Pacific Partnership (CPTPP) and Canada-EU Comprehensive Economic and Trade Agreement (CETA), will decrease production and greatly affect the dairy processing industry's ability to see returns on past investments".
The Canadian dairy industry has been concerned about the country's system of supply management, which coordinates production and demand, while controlling imports, as a means of setting what it sees as more stable prices.
But President Trump had threatened to leave Canada out of any new trade pact unless it agreed to new terms across a number of industries.
The new agreement will be called the United States-Mexico-Canada Agreement (USMCA) and replaces Nafta, which has been in place since 1994.
Trump blamed NAFTA for the exodus of manufacturing jobs from the US to lower-wage Mexico. He had threatened to scrap the deal unless major changes were made to it.
After signing the new deal, Canadian Prime Minister Justin Trudeau told reporters: "It's a good day for Canada."
A joint statement from United States Trade Representative Robert Lighthizer and Canadian Foreign Affairs Minister Chrystia Freeland, issued yesterday (30 September), said: "Today, Canada and the United States reached an agreement, alongside Mexico, on a new, modernised trade agreement for the 21st Century: the United States-Mexico-Canada Agreement (USMCA).
"USMCA will give our workers, farmers, ranchers and businesses a high-standard trade agreement that will result in freer markets, fairer trade and robust economic growth in our region. It will strengthen the middle class, and create good, well-paying jobs and new opportunities for the nearly half billion people who call North America home."