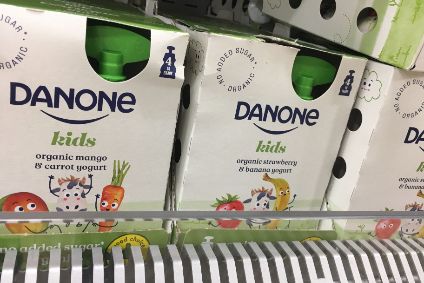 US investment business Artisan Partners has re-iterated calls for structural change at Danone and has called for CEO Emmanuel Faber to be replaced.
In a letter to the company's board of directors, made public today (26 February), two portfolio managers from Artisan, which holds a 3% stake in Danone and is one of its largest shareholders, has again urged for a separation of the chief executive and chairman roles at the Activia maker, both currently held by Faber, and has called for the Frenchman to be replaced as CEO.
Artisan has argued Danone's 2020 financial results, released a week ago, "exhibited a continuation of poor performance" and the investor said it was writing "in response to press speculation regarding a board of directors meeting on Monday".
In its defence, Danone put out a statement today, which said: "The board of directors and the management team are fully dedicated to value creation in a sustainable and responsible manner and welcome ideas from all shareholders."
Danone's 2020 results, released on last Friday (19 February), revealed sales were down 6.6% year-on-year at EUR23.62bn (US$28.62bn), while net income rose 1.4% to EUR1.95bn.
Before the results were made public, Danone had faced criticism from some investors – notably Artisan and UK-based Bluebell Capital Partners – about its corporate structure and portfolio mix, which they see as impeding growth.
In its letter to Danone's board today, Milwaukee-based Artisan outlined its continued dissatisfaction with the way the company is being run.

"Danone reported year-end results that exhibited a continuation of poor performance. Danone's sales and volume growth, as well as profitability, continue to trail relevant category competitors," it said.
It added: "Management in its own words is embarking on a reinvention and a reshaping of the company. Overhead put in place by the current management team is to be reduced and brands purchased by the current management team are to be sold. Jobs created and employees hired by the current management team are to be terminated. These are all hallmarks of management failure, and they beg a fundamental and inescapable question: Given it is this management team that has driven Danone to disrepair over the past six years, why does the board of directors continue to support it?"
Artisan suggested there is an "urgent need" to address the board's structure and the company's leadership.
"The roles of CEO and chairman should be split to reflect modern-day corporate governance. Governance standards also require that prior leadership leave the board. And logic demands more consumer goods experience on the board of directors," it said.
"Finally, a new, non-financial CEO with consumer goods experience and a track record of success should be installed as soon as possible to restore Danone to the elevated status it deserves within the French business establishment."
In its response, Danone said: "Understanding shareholder priorities is a top priority of the senior management team and the board of directors" but its annual results "exceeded market expectations".
The French giant said it had "set out a mid-term plan to restore margins to mid-to-high teen levels and return the company to 3-5% profitable sales growth," and that it would give more details on "our pathway to deliver this" at an investor event on 25 March.
It added: "In addition to this, the company has taken significant steps to reinforce its governance and leadership team, including the refreshment of the board with more independent directors, including more directors with consumer and operational experience, the creation of a strategy and transformation committee to monitor progress on the execution of Danone's adaptation plan, and as announced at full-year results, linking 30% of the management team's long-term incentives to total shareholder returns."
It said: "Danone has strong foundations. It has the right brands, aligned with the right trends, across the right channels", adding: "Danone's portfolio of brands provide a solid platform for future growth".
Artisan has previously urged Danone to sell its under-performing brands, such as Asian water brand Mizone.
Late last year, Danone announced a plan to cut 2,000 jobs, trim product ranges and sell some assets.
Read just-food's analysis – Will Danone's growth predictions placate grumbling investors?