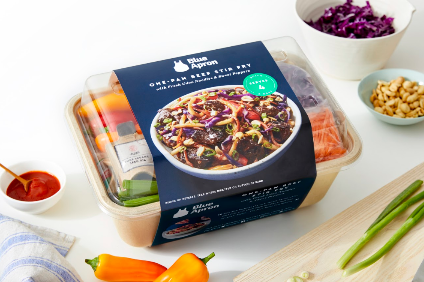 Blue Apron, the New York-based meal kit firm, is to lay off around 100 workers following disappointing financial results.
The company said on Tuesday it would lay off about 4% of its workforce of roughly 2,500.
It also plans to cut marketing spending and has announced it will focus on promoting its meal-kit delivery service to its highest-paying, most profitable customers, roughly the top 30%.
Blue Apron incurred a net loss of US$34m in the third quarter, it revealed on Tuesday. Revenue came in at $151m, a 28% decrease on a like-for-like basis.
In a post-results call with analysts, chief executive officer Brad Dickerson said: "As we have sharpened our focus on the highest impact areas of opportunity in the business, we recently made the strategic decision to streamline personnel to better align internal resources with our priorities resulting in a reduction of approximately 4% of our total workforce. These reductions included certain members of management.
"I sincerely thank these employees on behalf of the entire company for their immeasurable contributions to the business. It's not easy to part ways with valued colleagues, we believe this organisational transformation will enable us to more efficiently pursue opportunities ahead.
"Additionally, we were initiating a search for a chief revenue officer who will largely focus on product, innovation and brand marketing complementing progress achieved in areas that contribute to our bottom line performance."
The firm's sales have declined as competition has increased and grocers and online giants such as Amazon have entered the market.
It announced in March it was aiming to arrest sagging sales by making its products available in stores.