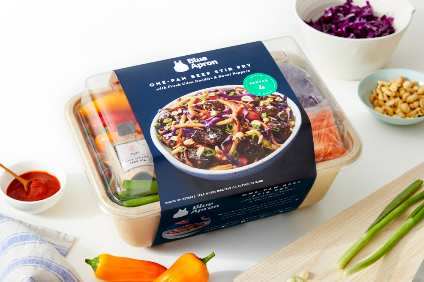 New York-based Blue Apron, one of the meal-kit trailblazers in the US, is aiming to arrest sagging sales by making its products available in stores.
The company said its new multichannel offering "will make our brand more accessible to homes across the country".
Blue Apron was one of the first meal-kit delivery companies on the market but its subscription level has dropped to around 750,000 from a peak of around one million and the firm, which only listed on the New York Stock Exchange last June, has seen its share price drop as a result.
Last August, Blue Apron announced it was planning to close a plant in New Jersey, just days after COO and co-founder Matt Wadiak stepped down amid a restructuring of executives. That month it was also revealed that activist investor Jana Partners had taken a stake in the business.
And in October Blue Apron revealed it was cutting 6% of its global workforce as part of a "realignment" to support its strategic priorities.
The decision to sell meal kits in stores would seem to be part of that realignment.
In a statement sent to just-food today (16 March), the company said: "We just announced our new multichannel offering. This offering is part of our strategy to leverage the strength of our brand and the quality of our product to expand to new channels and new consumer segments.
"We continue to focus on our core product, where our innovation is guided by customer insights – our recent partnership with Whole30 and the launch of our Mediterranean Diet recipes are examples of how we're evolving our core product to address a variety of customer preferences and attitudes.
"This new multichannel offering, which will make our brand more accessible to homes across the country, will provide the unique and consistent product experience that our customers have come to know and expect from us, including high-quality ingredients and chef-driven recipes."