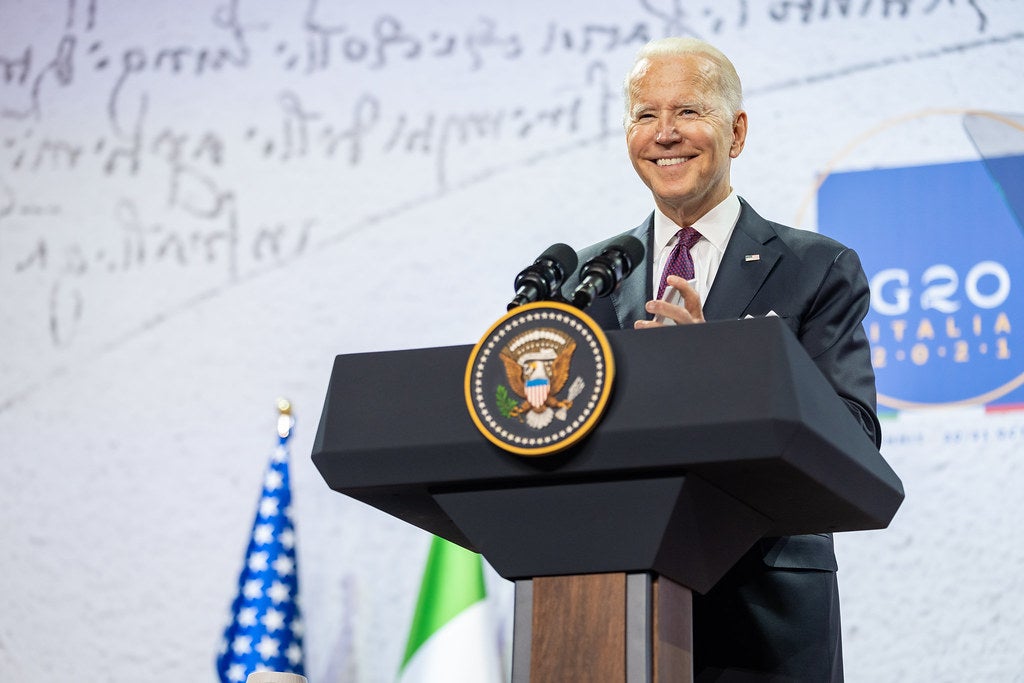 The US Department of Agriculture has announced a raft of measures in an attempt to transform the country's food system and shore up the food supply chain.
In an announcement today (1 June), the USDA said it is aiming for a food system that is "fairer, more competitive [and] more resilient". The agency said its plans will "address long-standing issues intensified by [the] pandemic".
Worker illness and other disruptions during the Covid-19 pandemic caused supply issues in the US.
It is also the Biden Administration's latest attempt to break up what it sees as a monopoly in the meatpacking industry and to see greater competition elsewhere, not least in the infant-formula sector where problems with one manufacturer have led to a nationwide product shortage.
President Biden is expected to hold talks with infant-formula manufacturers next week.
The USDA said it is "providing more options, increasing access, and creating new, more, and better markets for small and mid-size producers".
The goals of the department's Food System Transformation framework – announced today (1 June) by Agriculture Secretary Tom Vilsack – include "creating a fairer food system that combats market dominance and helps producers and consumers gain more power in the marketplace by creating new, more and better local market options".
Returning to the administration's bugbear of the dominance of a few major players in the meatpacking market, USDA said: "Today, just a handful of companies dominate meat and poultry processing and just a few multi-national companies produce most brands and products on supermarket shelves.
"Right now, input prices and food prices are up – but so are the profits of major food companies and national supermarket chains. Covid has revealed the perils of a food system dominated by a few corporate players. USDA's investments will deliver a better deal for farmers, ranchers, growers and consumers."
Those investments, some of which build on previous pledges, include the deployment of up to $375m in support of independent meat and poultry processing plant projects.
The first phase of the Meat and Poultry Processing Expansion Program will deploy $150m in grants up to $25m each to expand processing capacity through a variety of activities, including construction, expansion of existing facilities and acquisition of equipment.
It also announced investment of up to $275m in partnership with lenders to address the credit access gap for meat and poultry processing projects "because lenders have been reticent to invest in the meat and poultry sector without incentives to do so given the risk profile and lack of experience in the sector".
Investment of up to $100m to support development of a pipeline of "well-trained workers and safe workplaces in the processing sector" is also part of the package.
Elsewhere, the USDA will spend up to $300m in a new Organic Transition Initiative to provide support for farmers to transition to organic production and up $75m to support urban agriculture.
In food production, a Food Supply Chain Loan Guarantee Program will back private lenders that invest in independently owned food processing, distribution and aggregation infrastructure, and "other projects along the middle of the supply chain".
The USDA said it has deployed $100m to make more than $1bn in guaranteed loans available immediately.
And up to $600m will be pumped into providing financial assistance to support food supply chain infrastructure that is not covered by the meat and poultry processing program.
Also announced is an investment of $400m to create regional food business centres that will provide coordination, technical assistance, and capacity-building to small and mid-size food and farm businesses, particularly focused on processing, distribution and market access challenges.
The investments will be drawn from the American Rescue Plan Act and other relief legislation.
Just Food analysis, January 2022: What is Joe Biden's beef with US meatpackers?