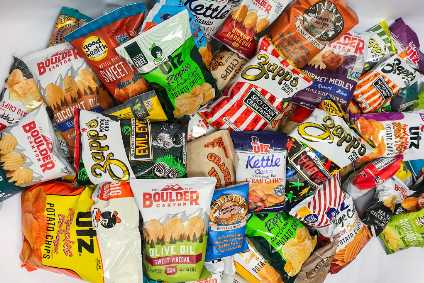 Utz Quality Foods, one of the largest producers of savoury snacks in the US, is to go public after a merger with a vehicle set up by a former Kraft Foods executive.
The transaction represents an enterprise value of about US$1.56bn, or 11.6 times Utz's estimated adjusted EBITDA for fiscal 2021, according to a statement on Friday (5 June) that confirmed a deal, first reported in May as potentially in the offing, had been finalised.
The investment vehicle, Collier Creek Holdings, describes itself as a special purpose acquisition company. Roger Deromedi, one of the founders of New York-listed Collier, along with Chinh Chu and Jason Giordano, will become chairman of Utz Brands , with the board mostly comprised of independent directors. Deromedi was once chairman of Pinnacle Foods, now owned by US-based Conagra Brands, and prior to that was CEO of Kraft Foods.
The Rice and Lissette family, the founder and owners of Utz, will retain more than 90% of its existing stake, which will represent a more than 50% shareholding in Utz Brands upon completion of the transaction. Utz recently acquired US snacks peer Kitchen Cooked.
Dylan Lissette, who has served as Utz's chief executive since 2013 and has worked at the company for almost 25 years, will continue to lead the business.
He said: "As we approach our 100-year anniversary, we are excited to take this important step forward to position Utz for its next century of growth. This transaction enables Utz to continue its long-term growth plans and provides greater access to capital to fund organic and inorganic growth. As a public company, I am confident that Utz will continue to grow its importance within the salty snack industry, bringing more of our brands to an ever-greater consumer audience across the US."
Utz has 14 manufacturing plants located in Pennsylvania, Alabama, Arizona, Illinois, Indiana, Massachusetts and Washington, and also operates a direct-store-delivery (DSD) network acquired from Conagra last year. Some of its brands include Utz, Zapp's, Golden Flake, Good Health, Boulder Canyon and the Hawaiian Brand.
The statement added: "In connection with the transaction, Collier Creek's sponsor and directors will invest approximately $35m alongside public investors via a private placement pursuant to the forward purchase agreements entered into concurrent with Collier Creek's initial public offering.
"Assuming no redemptions by the public shareholders of Collier Creek, the approximately $453m in cash held in Collier Creek's trust account, together with the $35m private placement, will be used to pay cash consideration to the current Utz owners, pay transaction expenses, and reduce the company's existing indebtedness to approximately 3.1 times estimated 2020 pro-forma adjusted EBITDA."
Collier Creek said it will become a Delaware corporation and its name will change to Utz Brands.
Deromedi said: "Utz Brands is a phenomenal business combination that meets all of the criteria we established when we launched Collier Creek. It's a leading platform in the attractive and growing salty snack category, with significant competitive advantages and multiple opportunities to accelerate growth and drive value creation."
Giordano added: "We look forward to working closely with Utz's management to unlock meaningful value for all stakeholders by investing in innovation and marketing to delight consumers, expanding distribution into new retailers and geographies, broadening the Utz product offering, driving operational efficiencies, and capitalising on strategic acquisition opportunities that further enhance Utz's unique platform and brand portfolio."