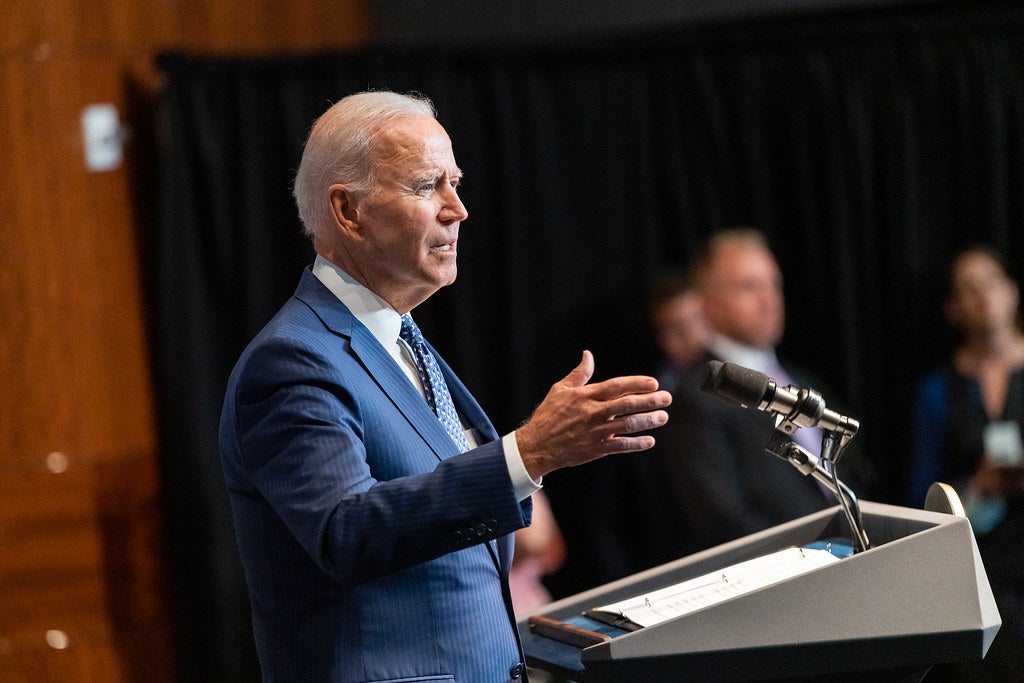 The US government is working on new rules that require companies of a certain size to ensure staff are fully vaccinated against Covid-19 – or test negative for the virus weekly.
Announcing a new plan to curb the country's case rate, which is at around levels seen in January, President Biden implored Americans to get the jabs, and private companies will be expected to play their part.
According to the US government, almost 80 million citizens eligible to be vaccinated have not yet had their first shot.
Under new rules drawn up by the US Department of Labor, companies with at least 100 staff will have to ensure their workforce is fully vaccinated or require any unvaccinated employees "produce a negative test result on at least a weekly basis before coming to work", the White House said in a statement.
The Department of Labor's Occupational Safety and Health Administration is to issue an "emergency temporary standard" to implement the rule. More than 80m workers will be affected by the requirement, the White House added.
"The vast majority of Americans are doing the right thing," President Biden said yesterday (9 September). "Nearly three-quarters of the eligible have gotten at least one shot. But one quarter has not gotten any – that's nearly 80m Americans not vaccinated. In a country as large as ours, that's a 25% minority. That 25% can cause a lot of damage. And they are."
He added: "What more is there to wait for? What more do you need to see? We've made vaccinations free, safe and convenient," Biden said. "We've been patient but our patience is wearing thin and the refusal has cost all of us. So please do the right thing."
In the US food and grocery industry, less than a handful of large companies have publicly announced staff vaccine policies.
August saw two US majors, Tyson Foods and Kraft Heinz, announce mandates. Unless employees have religious or medical exemptions, Tyson Foods' staff at US office locations will be required to be fully vaccinated by 1 October and all other employees by 1 November.
On 3 August, when Tyson announced its vaccine mandate, Donnie King, the company's president and CEO, said the meat giant "did not take this decision lightly".
He added: "We have spent months encouraging our team members to get vaccinated – today, under half of our team members are. We take this step today because nothing is more important than our team members' health and safety, and we thank them for the work they do, every day, to help us feed this country, and our world."
Last Friday, Tyson announced its plans had received the backing of unions representing more than 80% of its US staff who are unionised. After the talks with unions, Tyson is to provide more benefits to fully vaccinated staff. One new benefit for employees will see workers start earning up to 20 hours of paid sick leave a year from 1 January. The company is also giving double-jabbed workers US$200 as "a thank you", it said.
The White House, in its announcement yesterday, pointed to Tyson's policy as evidence mandates work. "We know these requirements work," it said. "At the beginning of August, when Tyson Foods announced its requirement – only 45% of its workforce had gotten a shot. Today, it stands at 72%, meaning half of Tyson's unvaccinated workers have now gotten a shot – well ahead of the company's November 1st deadline."
Kraft Heinz has announced its US office-based staff will have to be fully vaccinated before they return to the office in January, unless they have medical or religious exemptions.
A spokesperson for Kraft Heinz said at the time of the announcement the prevalence of the Delta variant of Covid-19, as well as the approval by the US Food and Drug Administration of the Pfizer-BioNTech vaccine, had fed into the company's decision.
Reacting to Biden's plan, Geoff Freeman, president and CEO of the US consumer packaged goods industry body the Consumer Brands Association, said the sector "supports efforts to vaccinate as many Americans as possible".
However, he added: "Throughout the COVID-19 pandemic, government has often failed to implement well-intentioned policy. President Biden's announcement prompts critical questions that require immediate clarification. As with other mandates, the devil is in the details. Without additional clarification for the business community, employee anxieties and questions will multiply.
"Our country's ability to increase vaccination rates hinges on federal agencies offering clear, detailed and timely guidance in hours, not weeks. Across the federal government, we will need to see a degree of coordination, rapid response and private sector engagement to be successful."
Just Food focus: No jab, no job? Food groups broach sore subject of vaccine mandates