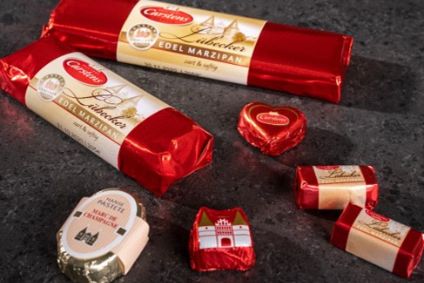 Ireland's Valeo Foods Group has announced its first acquisition of the year, buying German confectionery business Schluckwerder Holding for an undisclosed sum from local private-equity firm Novum Capital.
Schluckwerder Holding is a manufacturer of confectionery products sold in Germany and internationally. Founded in 1956, the company is the manufacturer of the 175-year-old Lübecker marzipan brands Erasmi and Carstens which have had EU protected geographic designation status since 1996. It also produces nougat, chocolate rings, fondant, crocant and praline treats.
The group also operates a private-label business and counts German and international retailers among its customers. More than 25% of Schluckwerder's products are sold outside Germany.
The company has three production facilities in Lübeck and Adendorf and employs 480 staff, bringing Valeo Foods' total workforce to around 4,500.
Valeo said the deal strengthens its position as an international food "consolidator" and pushes its annual sales up to EUR1.2bn (US$1.45bn). Some EUR583m of Valeo's sales are made in the UK.
Seamus Kearney, group CEO at Valeo, said: "Schluckwerder is a great business that is supported by an extensive team of excellent people and it significantly strengthens our presence in Continental Europe.
"Its purchase represents the continued realisation of our strategy of building a major international food business where we see further attractive opportunities for expansion. Schluckwerder is our first German acquisition and we expect to further grow our European business unit alongside our existing significant platforms in the UK and Ireland."
Approached by just-food, Schluckwerder declined to comment on the sale.
Owned by investment group CapVest Partners, Valeo's last acquisition came just before Christmas when it acquired UK-based tortilla chip maker It's All Good.
Established in Ireland in 2010 as a portfolio business of CapVest, Valeo has expanded significantly in recent years through acquisition-led growth and is the producer and distributor of ambient food brands including Kettle crisps, Rowse honey and Jacob's biscuits. The move for Schluckwerder is Valeo's 18th acquisition in its ten-year history.