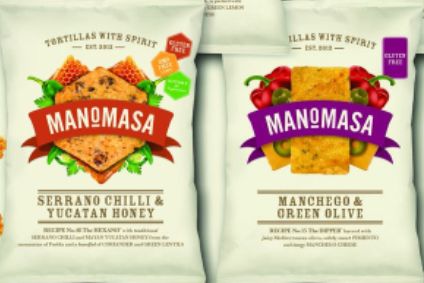 Ireland's Valeo Foods, the group owned by CapVest Partners, is back on the acquisition trail with a deal for UK snack maker It's All Good (IAG).
Headquartered in the north east English town of Gateshead, where it operates two facilities, IAG owns the Manomasa brand of tortilla chips and also manufactures private-label tortilla chips, pitta chips, flat breads and rice cakes for UK retailers.
Financial terms for the GBP37m (US$49.4m) turnover business, founded in 2012 by Calum Ryder, were not disclosed in a statement from Valeo Foods, which was formed in 2010 by London-based CapVest.
Since that deal, the private-equity firm has built up a catalogue of food companies, including UK-based Tangerine Confectionery and Italian cake and biscuit maker Balconi Industria Dolciaria.
And last year, Valeo Foods snapped up the European snack assets then owned by Campbell Soup Co., including UK-based Kettle Foods and Netherlands-based Yellow Chips, and it also bought Matthew Walker Christmas puddings from 2 Sisters Food Group.
Seamus Kearney, group CEO of Valeo Foods, said: "The acquisition of IAG is consistent with our ambition of creating a global food business with an exceptional portfolio of leading food brands and products in attractive categories.
"We are very excited about the potential of IAG's portfolio of private label and branded products and the opportunity to expand our presence in snacking, where we already have fantastic brands and category leaders like Kettle crisps and Metcalfe's popcorn. We want to remain at the forefront of consolidation in the ambient food sector in Europe and we will continue to seek out further exciting opportunities for growth."
Valeo Foods noted the IAG deal is the 17th since the business was created in 2010, making the company and its investor owners a EUR1bn (US$1.2bn) food business across the UK, Ireland and Continental Europe.
IAG, which employs 265 people, will become part of Valeo Foods' snacking division housing Kettle Foods, Tangerine Confectionery and Big Bear, another UK confectionery business acquired in 2017.
Its managing director Ryder said: "Valeo Foods is a great partner for our business. They understand the value of brands and have developed a formidable international growth platform that will significantly increase the future opportunities for our brands and our people."