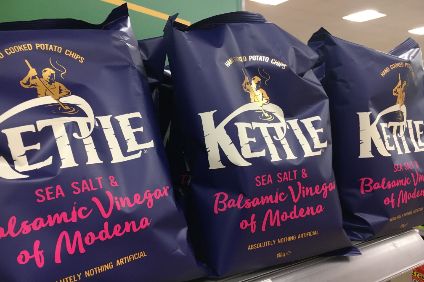 Ireland's Valeo Foods Group has signed an agreement to acquire US food giant Campbell Soup Co.'s European snack assets for GBP66m (US$79.6m).
Campbell's European chips business includes UK-based Kettle Foods and Netherlands-based Yellow Chips.
Under the terms of the agreement, Campbell will retain the Kettle brand business in the US and all other geographies except for Europe and the Middle East.
As was the case with other recent disposals, Campbell will use the proceeds from the divestiture to reduce debt.
Based in Norwich in eastern England, Kettle Foods makes crisps, popcorn, rice snacks and vegetable-based chips. Its primary brands are Kettle Chips and Metcalfe's skinny popcorn. Netherlands-based Yellow Chips is a producer of vegetable and organic potato chips under private-label snacks and its own brands, including Go Pure.
Valeo Foods is a portfolio company of CapVest Partners. Its brands include Barratt, Rowse Honey and Fox's Glacier Mints.
Rumours of its interest in Campbell's European snacks business were first raised last month.
Commenting on the deal today (2 September), Valeo Foods CEO Seamus Kearney, said: "The global snacking segment continues to grow and the proposed acquisition of Kettle Foods provides a great opportunity to further strengthen our expanding portfolio of international brands. This acquisition is consistent with our long-term goal of building a dynamic international portfolio of attractive, resilient and popular food brands that consumers love to enjoy."
Valeo said the deal will bring it "very close" to EUR1bn (US$1.09bn) in annual sales.
Campbell said in the US it intends to grow the Kettle brand as "an important part of its snacks portfolio," which also includes the Cape Cod, Emerald, Goldfish, Lance, Late July, Milano, Pepperidge Farm, Snack Factory Pretzel Crisps and Snyder's of Hanover brands.
The transaction is expected to close in the first quarter of Campbell's fiscal 2020 year, which started on 29 July.
Last month, Campbell announced its Australian-based snacks business Arnott's had been sold to private-equity firm KKR for US$2.2bn. The transaction finalised the sale of the company's international businesses following the disposal a month earlier of its Denmark-based Kelsen Group arm to confectionery group Ferrero for $300m.
In August last year, Campbell announced it would divest its Campbell International and Campbell Fresh divisions to focus the company on its core North American businesses and reduce debt. This followed a review after CEO Denise Morrison stepped down in May 2018 when the company announced a huge third quarter loss.
The company completed the divestiture of its Campbell Fresh operations in June, generating proceeds of approximately $565m.