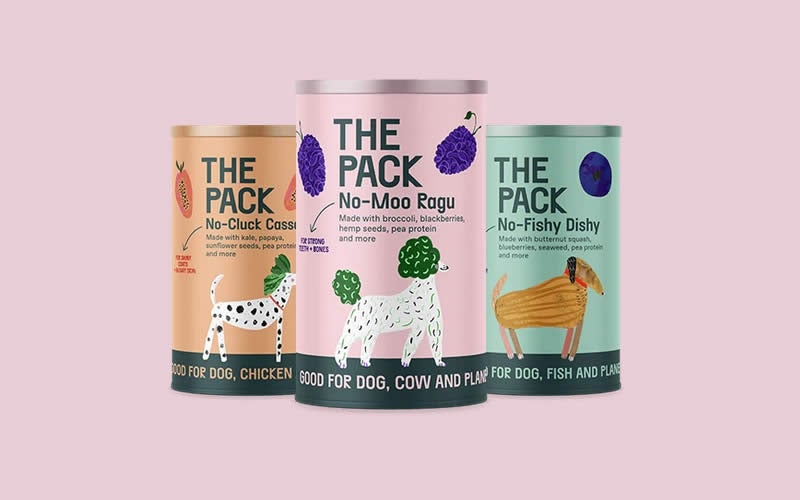 UK vegan dog-food start-up The Pack has raised GBP835,000 (US$995,514) in a seed-funding round.
The fundraising took place both privately and through the vegan investment platform Vevolution, which was established by The Pack founders Damien Clarkson and Judy Nadel in 2017.
Backers included US food giant Mars, an existing investor, through its Mars Petcare division's Leap Ventures accelerator. Other participants in the round included Scelta Mycofriends, Veg Capital and Kale United, as well as a range of angel investors active in alt-protein.
The Pack, based in Leicestershire in the English Midlands, offers meat-free canned dog-food products including No-Moo Ragu, No-Cluck Casserole and No-Fishy Dishy. It plans to launch oven-baked dried dog-food early this year.
A further funding round is also on the cards in 2023.
Co-founder Clarkson said: "We are delighted with the group of investors who have supported us with this seed round in challenging market conditions. They bring a wealth of experience and counsel that will help The Pack, steer around challenges in the coming years.
"For us, 2023 is all about growing distribution both in the UK and throughout Europe and launching our new nutritionally complete oven-baked products into the market."
Rachel Sheppard, director of Leap Ventures, said: "Mars Petcare is dedicated to working on solutions that improve the health and well-being of pets, people and the planet. Alternative protein diets for our pets will play a key role in helping us achieve a healthier planet in the future."
The Pack works with pet-food technologists and animal nutritionists to create its products, which it says are "100% nutritionally complete".
Some estimates predict the alt-protein pet-food market will be worth $57.43bn globally by 2032.
Read Just-Food's analysis: A shift in attitudes – is vegan dog-food heading for the mainstream?