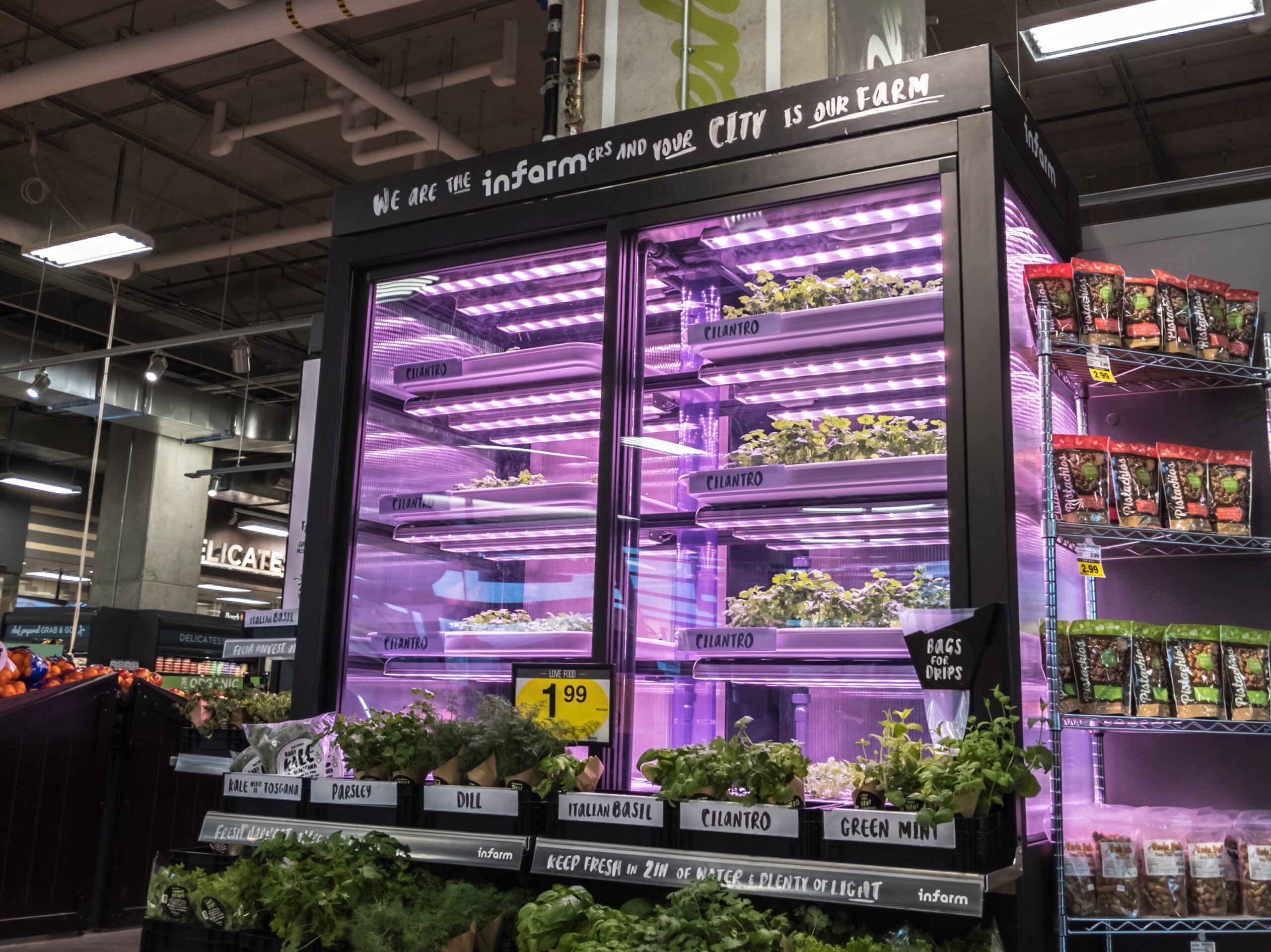 Germany's Infarm, one of the largest vertical-farming businesses, is poised to enter the Middle East with new capital in hand.
Berlin-headquartered Infarm, which already has indoor growing centres across Europe, North America and Japan, has secured US$200m in a Series D round ahead of the planned opening of a farm in Qatar in 2023. The site will cultivate tomatoes, strawberries and other fruits, as well as herbs and leafy greens.
Other new markets are planned in the Middle East and Asia-Pacific, including in-store systems and farms, while some of the capital will be used to expand Infarm's existing presence in the US, Japan, Canada and Europe.
The company, founded in 2013 by Osnat Michaeli and brothers Erez and Guy Galonska, entered eastern Europe this year, with a supermarket deal in the Czech Republic.
Infarm now carries a valuation of more than $1bn and to date has raised more than $500m, a spokesperson confirmed.
The Qatar Investment Authority (QIA) contributed to the latest investment round and the sovereign wealth fund will support Infarm's expansion in the wider Middle East. Other investors included Dutch venture-capital firm Partners in Equity, Hanaco Venture Capital in Israel, and London-based VC business Atomico.
Lightrock, a PE firm in London, and Nordic investment and media company the Bonnier Group, also took part.
CEO Erez Galonska said: "This strategic investment will support our rapid global expansion and bolster our R&D so that we can grow more varieties of crops close to consumers across Europe, Asia, North America and the Middle East. It's another step towards meeting our ambition of growing the entire fruit and vegetable basket in the near future, providing premium products at affordable prices to everyone."
Infarm also plans to expand its range to vertically-farmed mushrooms, cherry tomatoes and peas next year. The company has partnered with retailers such as Marks and Spencer, Whole Foods Market, Kroger, Safeways, E.Leclerc and Edeka. Other markets include the UK, France, Denmark, Switzerland, Luxembourg and the Netherlands.
Mansoor bin Ebrahim Al-Mahmoud, the CEO of QIA, added: "We see vertical farming as a way to enhance food security in every part of the world. We look forward to working with Infarm to develop their first growing centre in Qatar, which will contribute to Qatar's own food security and economic diversification."
While China is not yet a country on Infarm's roster, another announcement in the sector was made today (16 December) for a "mega-scale" indoor-farming project.
Alesca Life, a Beijing-based agricultural company that builds vertical farms and associated technology, has partnered with China Communications Construction Company, Ziyang Water Investment and the Ziyang Airport Economic Zone to build 1,000 modular farms in Greater Chengdu in Sichuan province.
The project is expected to foster 5,000 tons of fresh produce a year when fully operational late next year and will supply supermarkets and the airport catering sector.
BitsXBites, China's first food technology venture-capital fund, is a backer of Alesca Life, which also operates in Saudi Arabia, the UAE, Japan and Singapore.
Stuart Oda, Alesca's founder and CEO, said: "The industry is adopting agri-tech solutions that are economically viable and more sustainable at massive scale. Our partners can now farm directly at the source of demand, which further reduces costs and allows customers to receive only the freshest and most nutritious produce."
Read Just Food's analysis of the sector here: Indoor farming and the prospects for profitability