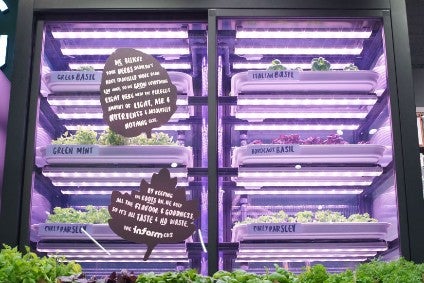 German vertical-farming firm Infarm is constructing a new large-scale facility in the UK.
A 9,760 sq m 'farm' is being set up in Bedford, north of London. Infarm suggested the site will be one of the biggest facilities of its kind in Europe. Building work should be completed in time for a first harvest in the fourth quarter of this year.
The company said the facility will be used to supply herbs and salads to retailers in the Greater London area and across southern and central England.
Infarm said the site will have more than 5,500 sq m of growing space and, when fully equipped, will be able to produce up to 18 million plants per year and generate the crop equivalent of 360,000 sq m of farmland.
Jeremy Byfleet, UK country director at Infarm, said: "Infarm has a clear goal to expand in the UK market. Our second UK growing centre located in the 'golden triangle' allows us to significantly increase the amount of fresh produce grown year-round in the UK.
"The location of the facility enables us to serve 90% of the UK population within four hours, bringing the freshest plants just on time to our clients. Consequently, food mileage is substantially reduced."
Infarm's existing UK site is in Edmonton in north London. The company's herbs and leafy greens are sold at UK retailers including Marks and Spencer, Fortnum & Mason and Budgens.
The business was founded in Berlin in 2013 by Osnat Michaeli and the brothers Erez and Guy Galonska. It has an ambition to expand to 100 locations worldwide by the end of 2025.
In April, it was reported Infarm was exploring a potential stock exchange listing via a merger with a special purpose acquisition company (SPAC).
A month earlier, Infarm announced a top-up of US$100m to its Series C funding. In September, Infarm said the round had initially seen the company raise $170m.
Last week, Infarm announced it was expanding a partnership with Canadian retailer Sobeys with plans for an additional four growing sites in different states for herbs and leafy greens.