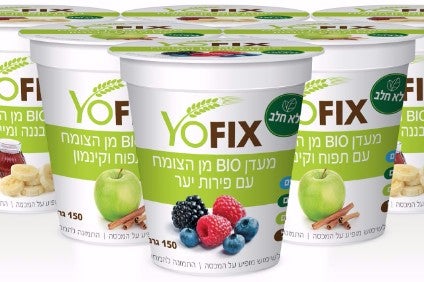 Yofix Probiotics, an Israel-based start-up manufacturing dairy- and soy-free yogurts, has emerged as the winner of the second European incubator programme run by food and drinks giant PepsiCo.
The company was among ten fledgling firms picked to take part in PepsiCo's six-month Nutrition Greenhouse project in July, with each getting an EUR20,000 (US$22,872) grant and mentorship from the conglomerate's executives in corporate structuring, marketing and branding.
PepsiCo said in a statement today (9 January) that its nine-member incubator selection committee was "impressed" by Yofix's "strategic launch and significant retail growth during the programme", and as the winner will be awarded EUR100,000.
Yofix was founded by Ronen Lavee, who is the chief operating officer, while Steve Grun became chief executive last year. The business is centred on the clean-label category, making plant-based fermented dairy yogurts. Yogurt drinks, deserts, frozen yogurt and ice cream are also in the pipeline.
In 2017, the company received $2m in funding from Israel-based food and drinks maker Strauss Group, along with private-equity funds in US, UK and Israel.
CEO Grun commented: "It's been an honour to have been part of this year's Nutrition Greenhouse programme and I'm delighted to receive the EUR100,000 grant for Yofix. It's been a truly memorable experience, and I've personally taken so many learnings from our PepsiCo mentor and the experts in the wider business.
"The company's achievements over the last six months wouldn't have been possible without that guidance – along with the wider support network of my fellow 2018 Greenhouse finalists."
Grun added the prize money will be used to "explore opportunities in other European markets".
During the programme, Yofix "significantly scaled up its operations", completed a new manufacturing facility in September, and formed a strategic international development plan, according to PepsiCo.
David Schwartz, the senior director of innovation for PepsiCo's Europe and Sub-Saharan Africa division, and leader of Nutrition Greenhouse, said: "It has been a privilege to partner with another stand-out group of exciting, innovative entrepreneurs in the second year of our Nutrition Greenhouse incubator programme in Europe. Our vision remains steadfastly the same as when we launched in 2017; to support forward-thinking food and beverage start-ups to deliver great-tasting, nutritious products to people around the world."
just-food interview from June 2018: "Agility puts you in the game" – PepsiCo on its European incubator Nutrition Greenhouse
See Hatching new ideas – Big Food's incubator and accelerator programmes