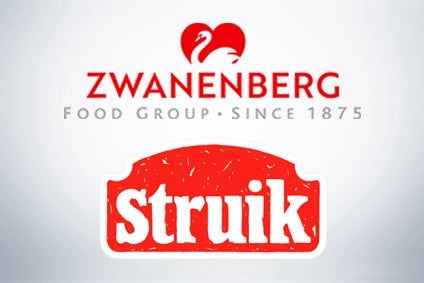 Zwanenberg Food Group and Dutch peer STRUIK FOODS Europe are conducting due diligence over a possible deal to combine both businesses.
Netherlands' competition regulator, Autoriteit Consument & Markt (ACM), has confirmed it has been notified by the companies about the planned deal.
The regulator has given interested parties the chance to comment on the proposed transaction, which it characterised as a takeover of Struik Foods Europe by Zwanenberg but which the companies have described as a merger.
"We are now in the middle of due diligence – no offers yet – so we expect it to take some more time to finalise the merger," a spokesperson for Zwanenberg told just-food.
The spokesperson estimated a deal could be closed in the first quarter of 2020 but said: "Obviously this will also depend on the ACM's decision-making process."
He added: "Like Zwanenberg Food Group, Struik Foods produces soups, sausages and convenience meals, so we would complement each other well."
When approached for comment, officials at Struik Foods Europe directed just-food to the Zwanenberg spokesperson.
According to the Zwanenberg website, the company generates turnover of EUR400m (US$441.4m), with production sites in the Netherlands, the UK and the US, as well as a sales office in Australia. It has 1,600 employees.
Alongside private label, Zwanenberg's brands include Huls sausages, Lupack luncheon meat and Plumrose tinned ham. Last month, Zwanenberg acquired the Dutch rights to the Chicken Tonight cooking-sauce brand from Unilever. In June, Zwanenberg sold a majority stake in Anur Halal Foods to Victus Participations, an investment fund focused on the food and agricultural sectors.
Family-owned Struik, set up in 1950, is based in the Netherlands but supplies retail customers across Europe.