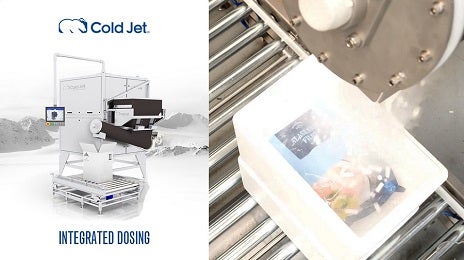 The newest offering in our dry ice manufacturing lineup. The latest advancement to our pelletizers helps several industries take control of their dry ice production and eliminates their reliance on third party suppliers.
Ensuring each parcel is packed with the proper amount of dry ice to maintain subzero temperatures is critical for product viability and the reduction of waste, especially when shipping perishable food products.
Our integrated dry ice dosing systems provide the most accurate dosing, highest quality dry ice nuggets/pellets, easiest operation, and greatest versatility for any company requiring reliable transportation of cold or frozen products.
The integrated dry ice dosing system is coupled with our PR350H and PR750H pelletizers with a side-hinged frame allowing operators to easily engage and disengage the dosing unit for precise parcels dosing or mass production for totes.
With a maximum hopper capacity of 242lb (110 kg) and dosing speeds up to 81lb/min (37kg/min), our integrated dosing systems are the perfect cooling solution for any application in food processing and shipping.
Both pelletizers are secured by the closed chamber technology which also ensures fast production shifts and an extremely short start up time. The automatic change of extruder plates also removes downtime and reduces loss of valuable CO₂.
When the pelletizers are connected to your LAN or Internet, the entire display can be transferred to the computer desktop of your choice – anywhere in the world.
Integrated dosing in three steps
Program the amount of dry ice:
Using the HMI screen, program the amount of dry ice per parcel.
Parcels loaded with dry ice:
The parcels are positioned on a scale to validate accurate dosing.
Operators can engage dosing by the push of a button.
CONFIDENTLY COLD. INTEGRATED DOSING SYSTEM ADVANTAGE
Beckhoff Industrial HMI
Intuitive control system offering permission-based accessibility and programming for automation
Automatic Extruder Plate Changer
Automatically switch between dry ice pellet/nugget sizes to minimize downtime and waste
Side Hinged Frame to easily engage/disengage dosing unit for precise parcel dosing or mass production for totes
Sureflow Dosing – thumpers and vibrators provide reliable dosing and clog-free operation
Cold Jet CONNECT® – remotely monitor, diagnose and implement corrective action from any internet-connected device