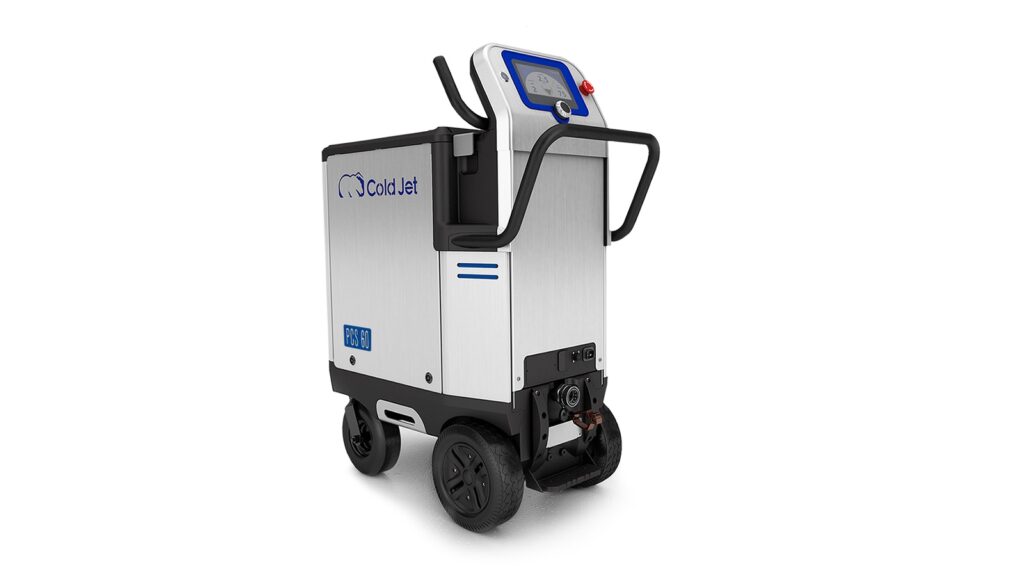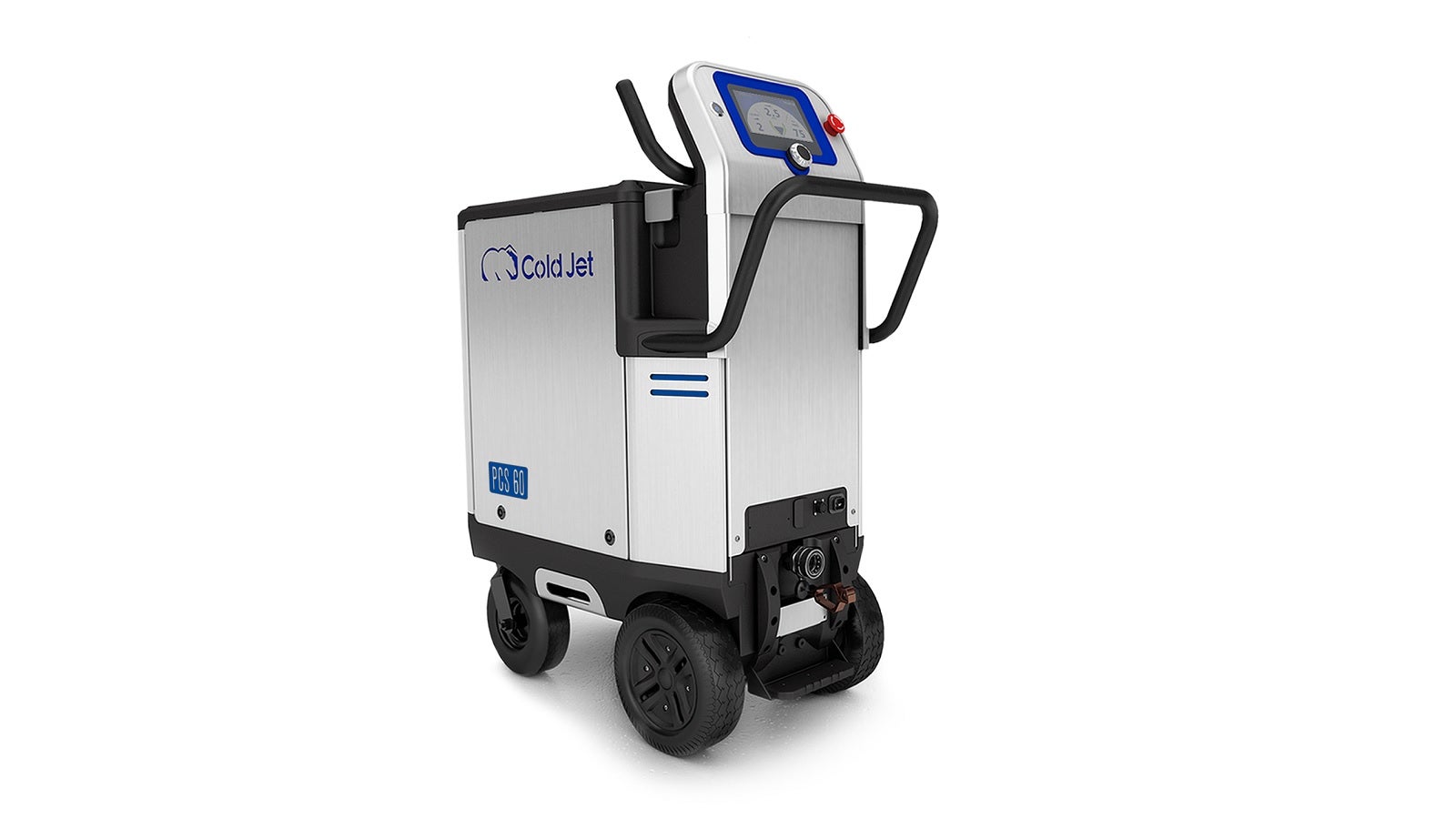 Cold Jet® is the world leader in developing innovative, environmentally sustainable dry ice production equipment and dry ice cleaning solutions.
Our two distinct lines of business focus on the use of dry ice. We provide systems for the production, metering and packaging of dry ice. These systems enable the consistent production of a controlled range of dry ice products for food transportation, cold chain management and batch cooling.
Secondly, we manufacture environmental cleaning, surface preparation and parts finishing systems for global manufacturing industries. These systems use particles of dry ice as a blasting medium. Customers are using our technology-based solutions to replace outdated processes that are inefficient and harmful to health, safety and the environment.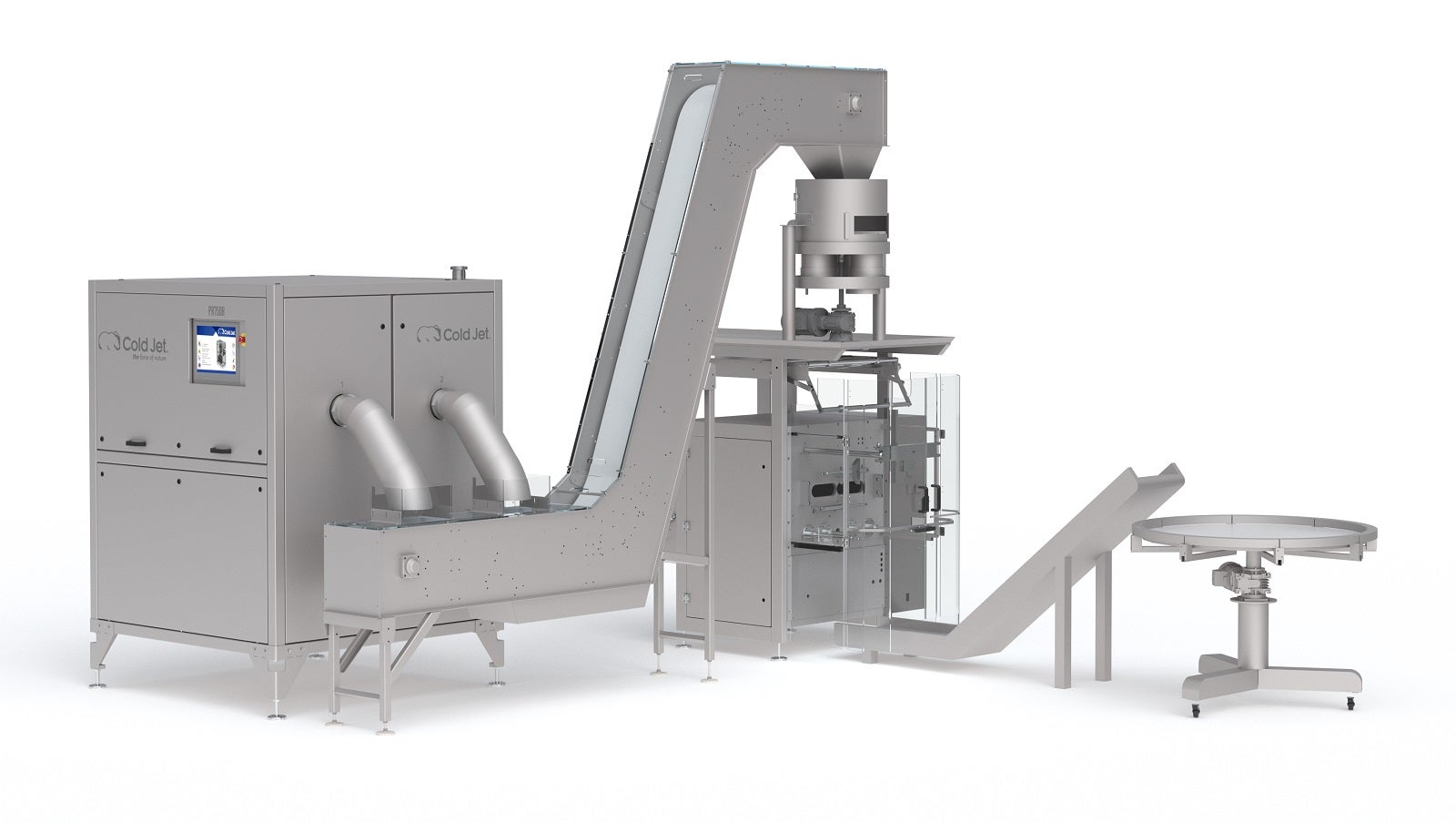 Cold Jet manufactures and installs automated dry ice production and bagging solutions for global food processors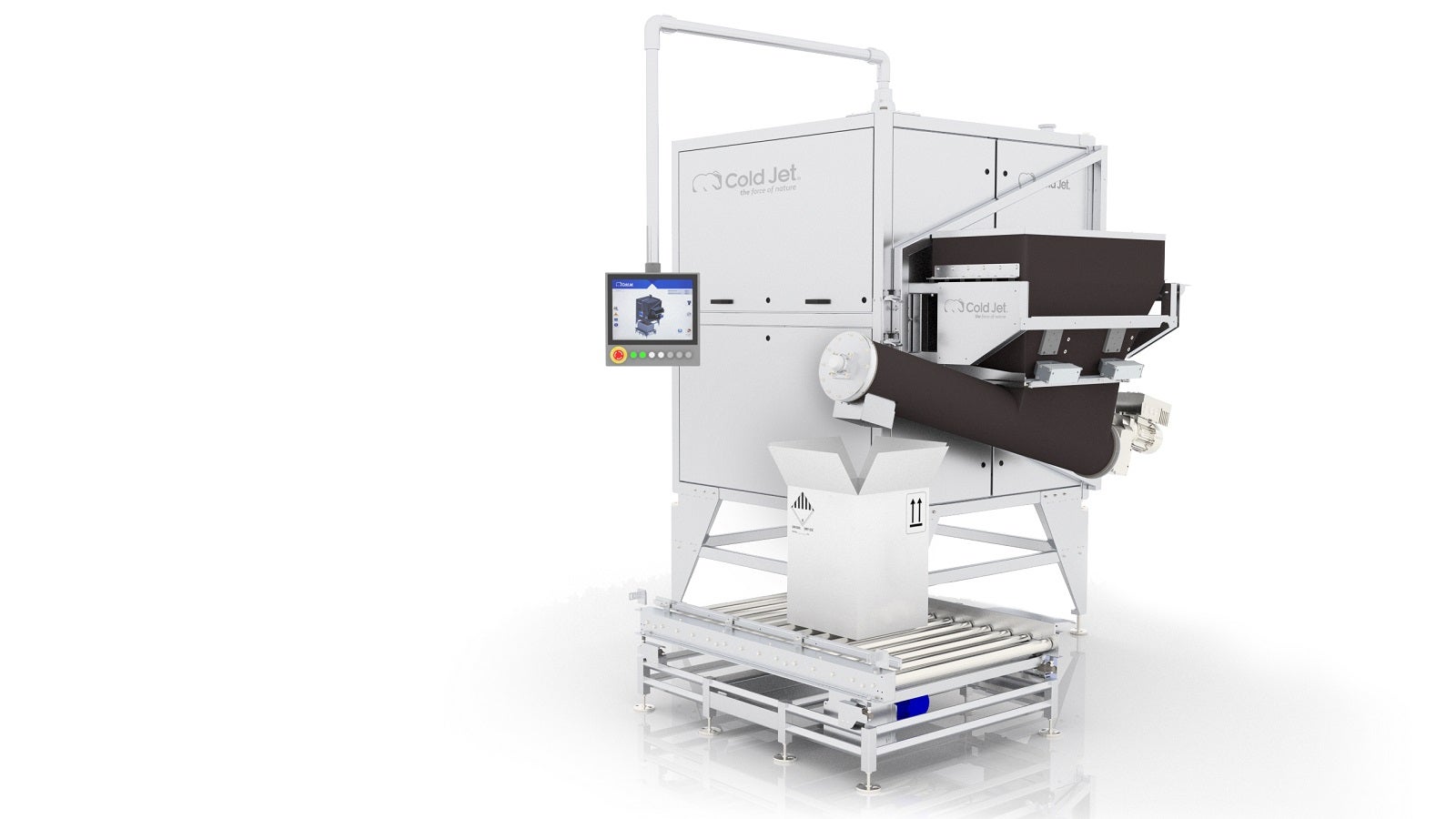 Our integrated dry ice dosing systems provide accurate dosing, high-quality dry ice pellets, easy operation, and versatility for companies requiring reliable transportation of cold or frozen products.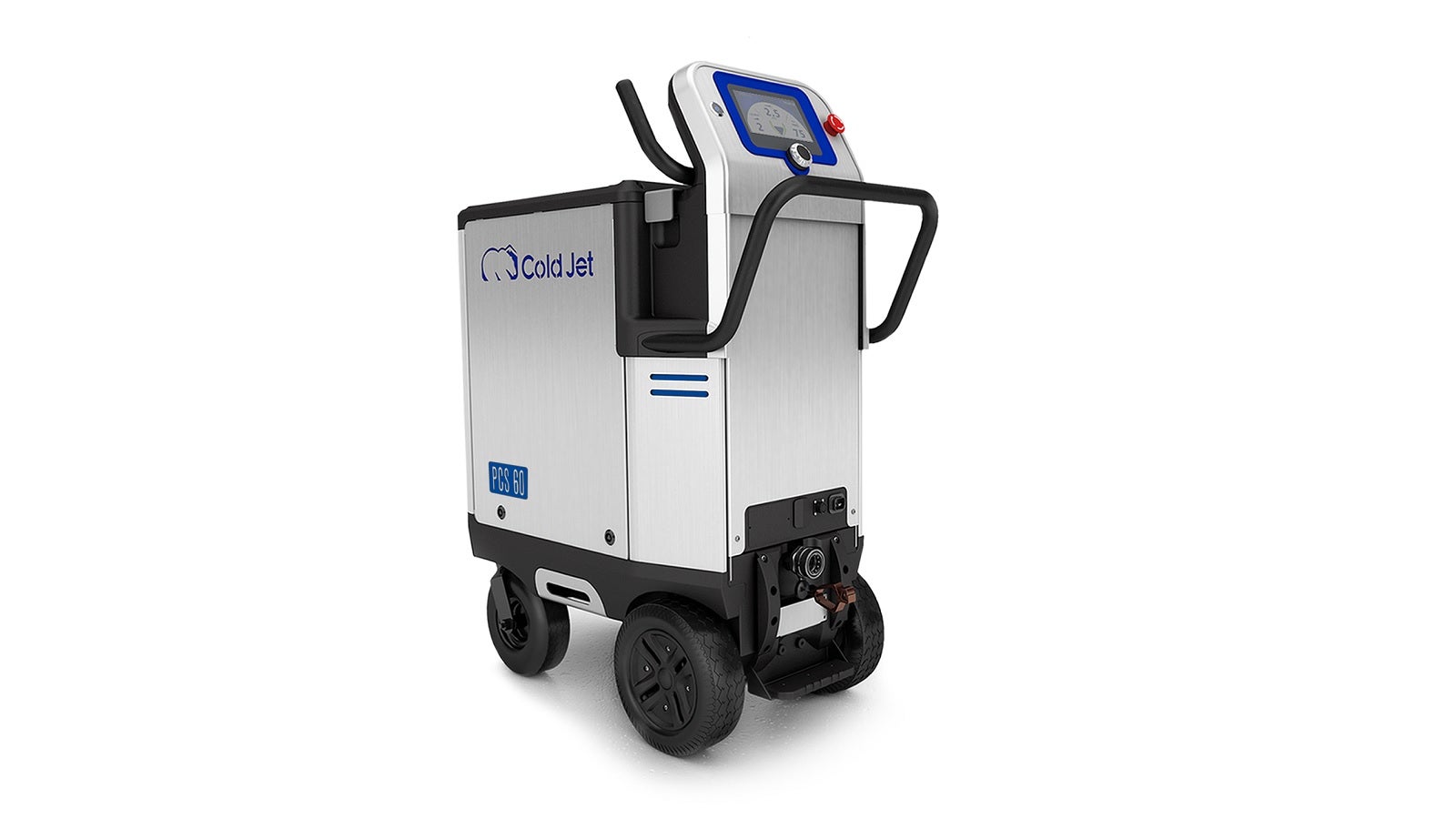 The Cold Jet PCS® 60 uses finely controlled particles of dry ice as a blasting method, via Cold Jet's proprietary and patented Particle Control System™ (PCS).
Cold Jet is headquartered in Loveland, Ohio, US; with international operations in Europe, Asia, Canada and Mexico.
Dry ice production for the food processing industry
Cold Jet allows companies to use dry ice to maintain critical temperatures in food processing applications.
Dry ice is used in many types of food processing facilities, including bakeries, to control temperature, impede bacteria growth and reduce spoilage. Dry ice is a food-grade media and is approved by the US Food and Drug Administration (FDA), US Department of Agriculture (USDA) and Environmental Protection Agency (EPA) for use around food.
Benefits for meat processing, commercial bakeries, winemaking (cryomaceration) include:
FDA, USDA, and EPA approved for use around food
Colourless, tasteless, odourless and non-toxic
Reduce spoilage and inhibit bacteria growth
Does not add residue or water to food products
Cut costs and improve operational efficiency
Triple the refrigeration power of water ice
Greater flexibility to meet demand
Dry ice production for food home delivery services
On-site dry ice production is critical for delivering perishable goods that keep customers happy and healthy.
On-site dry ice production allows food home delivery services and third-party logistics (3PL) companies to take control of their cold chain by providing just-in-time dry ice production solutions that eliminate the impact of supplier shortages.
Dry ice for food home delivery maintains critical temperatures during the transport of perishable goods, helping to reduce spoilage by mitigating the risk of thawing and leaking items.
The unique characteristics of dry ice make it a more efficient and cost-effective solution than traditional cooling methods such as gel packs or refrigerated trucks.
Benefits for food home delivery, third-party logistics (3PL) include:
Just-in-time dry ice production
Minimal food spoilage and waste
EPA, FDA, and USDA approved for use around food
Environmentally friendly
Increased margins by reducing shipping weight and costs compared to gel packs
Dry ice blasting for cleaning food processing equipment
Food processing and packaging equipment accumulates grease, carbonised residue, seasonings, proteins, harmful bacteria, biofilms, adhesives, and many other contaminants that traditionally take significant time to clean.
Dry ice blasting for the food industry provides an in-situ cleaning solution that is non-abrasive, sustainable, does not use water or chemicals and does not produce secondary waste. Cold Jet allows clients to experience a cleaner clean with a fraction of the waste.
Dry ice blasting thoroughly cleans contamination from process and production equipment in-situ, without water or chemicals, and even while the equipment is still running.
Benefits of using dry ice to clean processing and packaging equipment include:
Reduced cleaning time and resulting downtime, as well as bacteria counts
No secondary waste
Non-abrasive
Environmentally sustainable
Removal of biofilms
Reduce risk of unplanned production stoppages and costly repairs