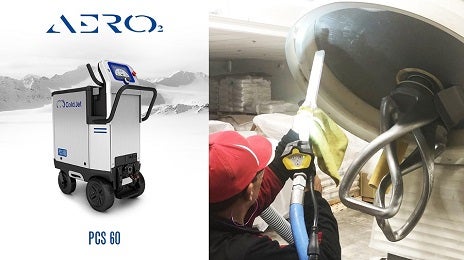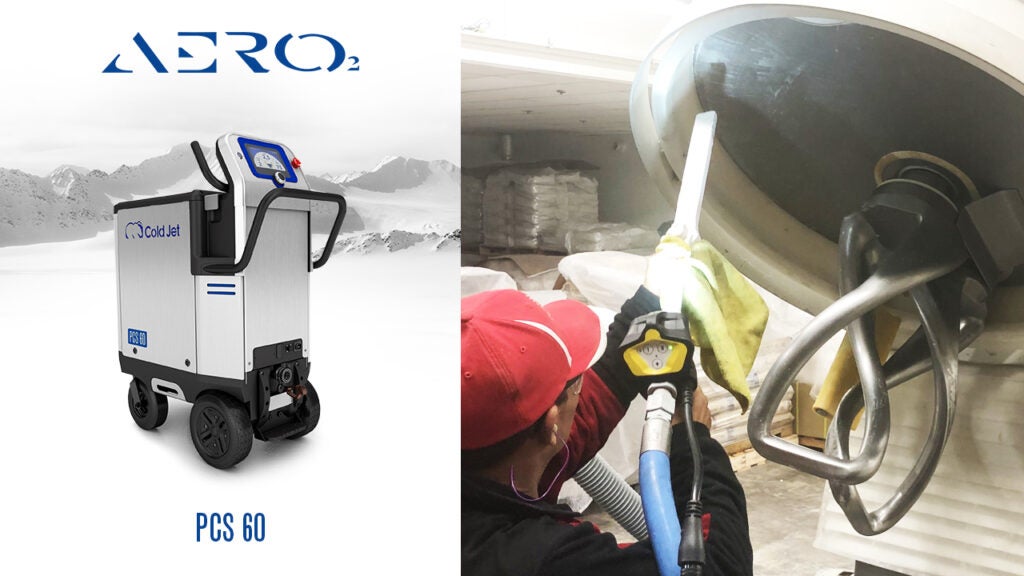 The Cold Jet PCS® 60 utilizes finely controlled particles of dry ice as a blasting medium, via our proprietary and patented Particle Control System™ (PCS). The PCS 60 accepts 3mm dry ice pellets as input and, via the PCS, precisely cuts the pellets into diamond-shaped particles in the exact dimensions chosen by the operator. Choose dry ice particle size from 3mm to 0.3mm and every size in between. The user has complete control and can fine-tune the most effective setting for each unique application.
Easy to use
Aero₂ Series machines are not only the most technologically advanced dry ice blasters on the market, but they are also the easiest to use. The 7in LCD colour screen HMI with digital controls provides an intuitive display for operators to easily view and control blasting parameters and machine settings. The PCS 60 also offers programmable and password-protected application recipes (blast pressure, particle size, feed rate).
Cleans faster
Aero₂ machines are the highest performing dry ice blasters available on the market. Industry changing performance allows users to clean faster and with greater power. The machine's optimized design leads to consistent and pulse-free blast stream.
Efficient
Clean more effectively with less air and less dry ice. Our streamlined "straight-through" air system maximizes air supply yield. The continuous dry ice flow minimizes sublimation and waste and our advanced air flow system minimizes pressure loss within the machine while maximizing the available air supply.
Smart
Dry Ice 4.0 – IoT connectivity enables operators to get the most out of their machines. Remote monitoring and diagnostics with Cold Jet CONNECT®. Online portal provides machine usage data and data views for remote technical support.
Durable
Aero2 machines are constructed to endure rough environments and extensive use. Coated tool grade aluminium alloy, stainless steel and polymer frame. Built with high-end parts to maximize reliability and performance.
Environmentally sustainable
Dry ice blasting is environmentally sustainable. To fulfil our mission of providing value and protecting the environment, our equipment: Utilizes media that is inert, non-conductive, non-corrosive and does not add to the hazardous waste stream. It also improves working conditions and the health and safety of the labor force.
A complete solutions
Cold Jet offers the complete solution for every application. A wide and dynamic line of the industry's most technologically advanced and efficient nozzles. A varied line of applicators that are designed for comfort, safety and simplicity. A complete range of flexible and durable air and blast hoses Options for onboard storage.
Provides incomparable value
Require significantly less dry ice and air pressure than competing machines. Cleans much faster than any machine on the market. Offers the lowest cost of ownership in the marketplace. Quickly achieve a return on investment with optimal use.
Automation and integration capable
Integrate select Aero₂ machines with a dry ice production unit for continuous blasting. Easily connect to a robot or any other PLC-controlled automation system via an optional accessory package. Seamlessly transition from an integrated unit to manually controlling the machine.