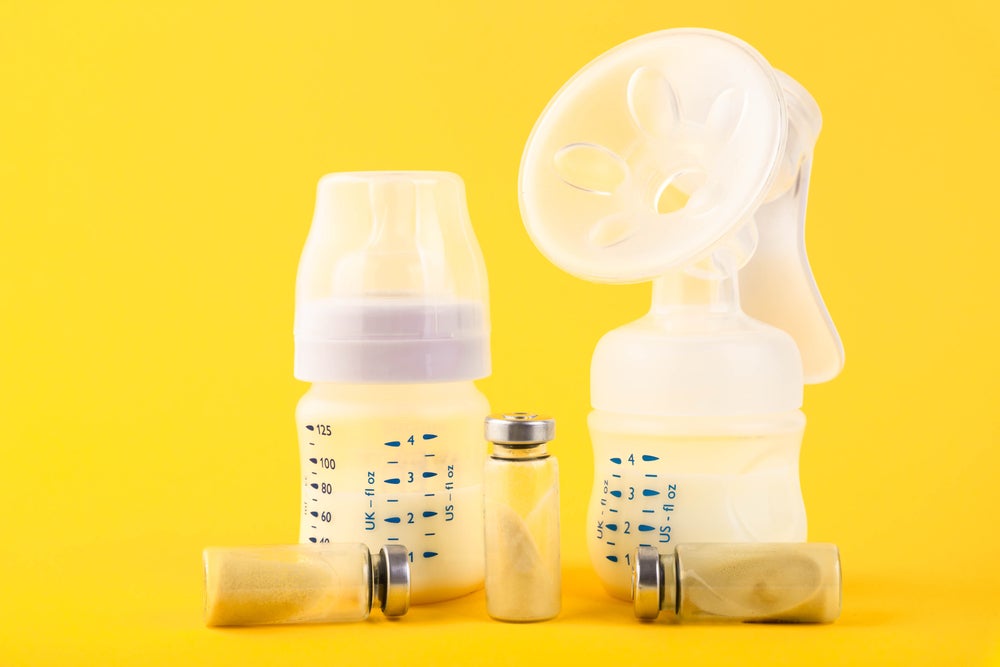 Probiotics are trending as a key ingredient in both the health and cosmetic industries due to their perceived advantages for health. These live bacteria and yeasts, which help restore gut balance, are found in food and drink groups such as yoghurt and sauerkraut. They are even included in personal care formulations to 'enhance' the skin's natural microbiome.
According to research collated by GlobalData, more than half of global consumers believe probiotics are healthy[i], a view backed by new research showing the diversity of microbes in the gut could affect a person's fitness and biological age.[ii]
Innovative products incorporating probiotics include gluten-free breakfast bars, skincare and haircare, and beverages such as lemonade featuring ginger and probiotics. There is also a trend of incorporating new sources of probiotics such as fermented kombucha and kimchi into formulations.
Lactic acid bacteria (LAB) have long been used as natural biopreservatives in fermented foods, with probiotic bacteria being associated with beneficial health effects alongside bifidobacteria. The use of probiotics also extends to species from different genera, such as Bacillus and Saccharomyces[iii].
Since viability is essential for producing probiotics in adequate quantities and to maintain their shelf life, they must be manufactured in a robust and stable manner.
Dried, concentrated probiotic cultures are the most convenient for incorporating into functional foods as they are easy to store, handle and transport.
Functional foods, defined as offering health benefits beyond their nutritional value, are one of the fastest growing businesses today, with global sales expected to reach US$91.7 billion by 2030.[iv]
Producing the product
The production of LAB and bifidobacteria for nutritional supplements begins with the use of frozen seed stock in a series of fermentations to produce the appropriate inoculum volume. An alternative method is to inoculate the main fermentation vessel directly using frozen direct vat inoculation (DVI) material.
A mixture of water, nitrogen sources, carbohydrates, salts and micronutrients – required for growth – make up the heat-treated medium used in seed scale-up and main fermentation.
Cells are concentrated by centrifugation after fermentation. Stabiliser solutions, such as cryoprotectants and lyoprotectants, may be added to the cells before freezing.
After blending, various freezing processes can be applied, such as pouring cryoprotected concentrate into cans, pelletising the concentrate or freeze drying (lyophilization). This process maintains probiotic cells at a low temperature, limiting damage to their structure and metabolites[v].
The dried material is then processed into a powder of predetermined particle size and density, according to the requirements of the client.
Finally, the milled material can be combined with excipients (bulking agents), extra-functional ingredients as needed and flow aids. The blend is then used to make the finished formats, such as pills, capsules or sachets.
Milling equipment
Based in Fribourg, Switzerland, Frewitt has been developing dry and wet milling processes for the pharmaceutical, fine chemical and food sectors since 1946. It offers cutting-edge milling, sieving, homogenising, deagglomerating, conveying, dosing and filling systems for powders, granulates and suspensions.
Frewitt's hammer mill and pin mill are ideal for milling dried items, including probiotic nutritional supplements.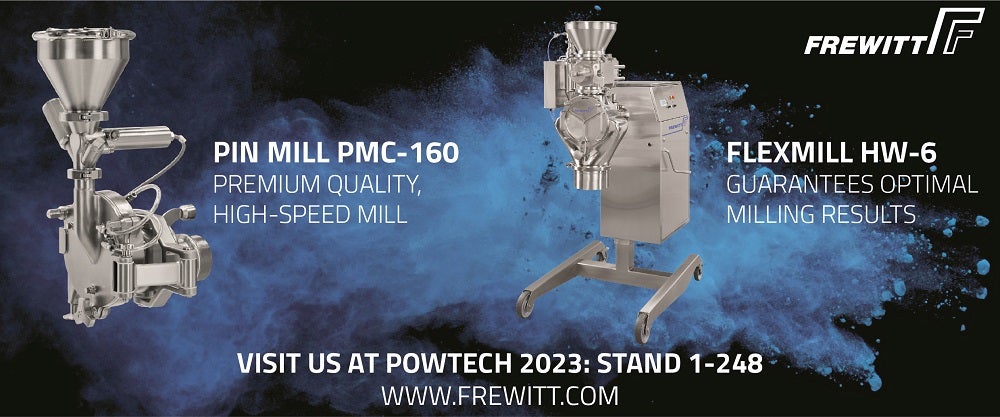 Hammer mill
The HammerWitt is a compact and modular hammer mill, designed for optimum milling and pulverisation of hard, crystalline and fibrous products up to 30 micrometres (μm). It is suitable for laboratory applications, and both small-batch and large-capacity production.
The mill ensures optimum and reliable production in good manufacturing practice (GMP) and high containment, even with extremely hard products. It offers a wide range of applications, including dry to wet powders, and it has a diverse range of uses.
The HammerWitt is GMP-capable, with ATEX construction for Zone 0/20 and a minimum ignition energy (MIE) range greater than 1 millijoule (mJ). It offers a high level of operational safety for containment requirements up to Occupational Exposure Band (OEB) 5.
Easy to clean, the mill offers optional wash-in-place (WIP) and sterilisation-in-place (SIP) options. Its modular design allows for quick changes of milling heads, while its rapid milling ensures low energy input and minimal temperature increase.
Pin mill
The PinMill-Lab is a high-performance pin mill for pulverising hard or crystalline products to a 10µm particle size. It is ideal for small-scale laboratory batches of between 50 grams (g) and two kilograms (kg) and is designed for pilot-scale production.
The compact design allows for easy integration and setup in any laboratory, as well as in a glove box. The pin mill has a broad scope of application and can be integrated in rigid or flexible isolators. It has a volumetric dosing system, is easily interchangeable with other Frewitt lab-scale milling heads and can be sterilised.
The PinMill-Lab is available in ATEX zones 1 and 21 and can cool the milling head. It can also integrate an inertisation system with O2 level control. The innovative milling housing geometry allows for product recovery up to 99%.
Frewitt will be exhibiting in Hall 1/1–248 at the POWTECH International Processing Trade Fair for Powder, Bulk Solids, Fluids and Liquids on 26–28 September, in Nuremberg, Germany.
For further information on Frewitt's milling equipment, please download the whitepaper below.
---
[i] GlobalData: Top 10 Trending Ingredients in 2020: A digest of ingredients that are expected to be on trend in 2020, February 2020
[ii] New Scientist: Your gut microbiome is linked to your fitness and biological age, August 2023. https://www.newscientist.com/article/2385367-your-gut-microbiome-is-linked-to-your-fitness-and-biological-age/
[iii] National Library of Medicine, The Production and Delivery of Probiotics: A Review of a Practical Approach, Kurt Fenster, Barbara Freeburg et al. https://www.ncbi.nlm.nih.gov/pmc/articles/PMC6463069/
[iv] StrategyR, Probiotics World Market Report. https://www.strategyr.com/market-report-probiotics-forecasts-global-industry-analysts-inc.asp
[v] National Library of Medicine, The Production and Delivery of Probiotics: A Review of a Practical Approach, Kurt Fenster, Barbara Freeburg et al. https://www.ncbi.nlm.nih.gov/pmc/articles/PMC6463069/