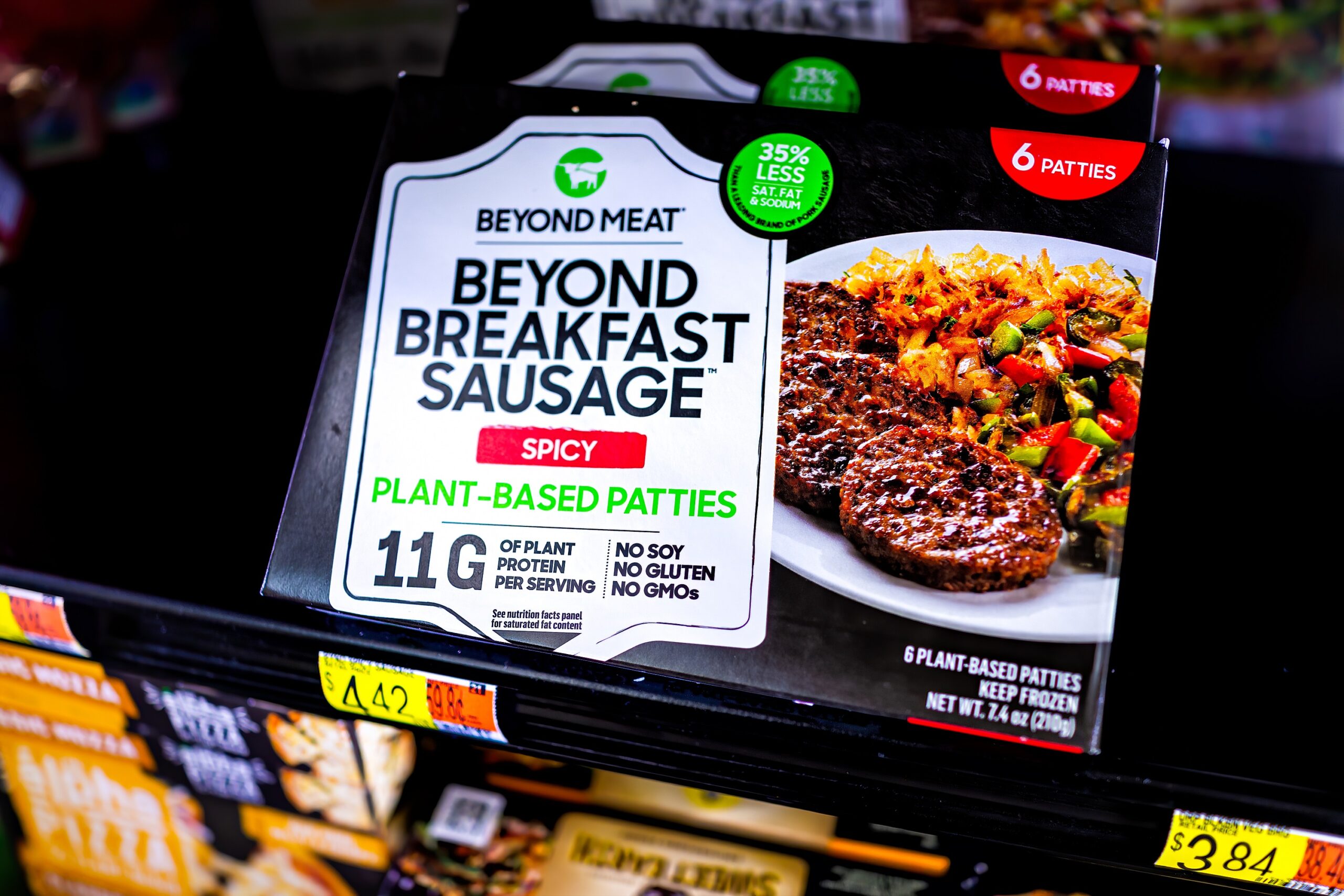 After last week's cautious commentary from Canada's Maple Leaf Foods on the US market for plant-based meat, all eyes were on Beyond Meat's latest financial results, which came out on Wednesday.
And, as expected, they were striking. The Beyond Burger maker's third-quarter net sales were up almost 13% but it was the company's performance in the US that stood out. Sales there were down almost 14% –  and were more than 15% lower through retail.
Last week, Maple Leaf, after the third quarter of declining sales from its plant-protein business, pointed to "a marked slowdown" in the category in the US (citing pressure in the refrigerated segment) – and said it was putting its dedicated division under review.
Maple Leaf's comments were brushed off by some in the sector. Stephanie Lind, founder of Elohi Strategic Advisors, while acknowledging the sales pressure being felt by Maple Leaf (and by Beyond Meat), insisted "plant-based sales as a category are not in decline".
"It isn't that the consumer is buying less plant-based," Lind wrote on LinkedIn. "Rather, the bigger brands tend to go after big customers and launch PR stunts which doesn't create sustainable revenue. It only creates a shaky foundation. Every. Single. Time."
For its part, Kellogg, the owner of the Morningstar Farms brand, said last week during the publication of its third-quarter results that the frozen side of the market was "decelerating" but remained up – and sales of its brand "remain strong".
At Beyond Meat, on Wednesday, CEO Ethan Brown suggested the company's lower US sales were down to a "pause" in consumer demand rather than any structural issue in the appetite for meat-free. "Had the pandemic and labour issues and supply chain stuff not interfered, I think this quarter would have been quite different," he insisted. Nonetheless, Wall Street appeared to feel differently, with Beyond Meat's shares down markedly in the wake of the results.
There remains some uncertainty among analysts on the Street about how to read Beyond Meat's prospects. "Given the nascence of the category, it's difficult to know if the domestic slowdown is transitory but we suspect adoption has been curtailed by Beyond's inability to sample products at retail due to Covid-19," Morningstar's Rebecca Scheuneman said. "Given the deceleration in third-quarter revenue and fourth-quarter sales guidance … it's reasonable to consider if demand for plant-based meat has peaked. We remain comfortable with our long-term assumptions – a 30% ten-year sales CAGR and high-teen operating margins."
At AllianceBernstein, Alexia Howard downgraded her rating on Beyond's shares to 'market perform', adding: "It seems too early to call whether this is a short-term stumble due to how Covid has affected consumer behaviour or a more fundamental issue. Given all the moving pieces here, it is simply too difficult to say whether the stock move creates a buying opportunity or whether there could be more downside risk from here. We will be monitoring the US Nielsen data closely over the coming months."
Structurally, the market for plant-based protein appears to have solid long-term fundamentals. The question for entrepreneurs, corporates and investors is whether those heady growth projections put forward in recent years will become reality, or whether the sector will grow at a slower rate – and, if so, what that might mean for all the brands and businesses battling for sales now.
As with any buoyant category that starts to lose some steam, there will be winners and losers and a shake-out of some kind looks inevitable, whether it be through range rationalisation or industry consolidation – and that's not just in the US and Canada but in other markets where there are dozens and dozens of products now on-shelf. Not everyone will prevail.