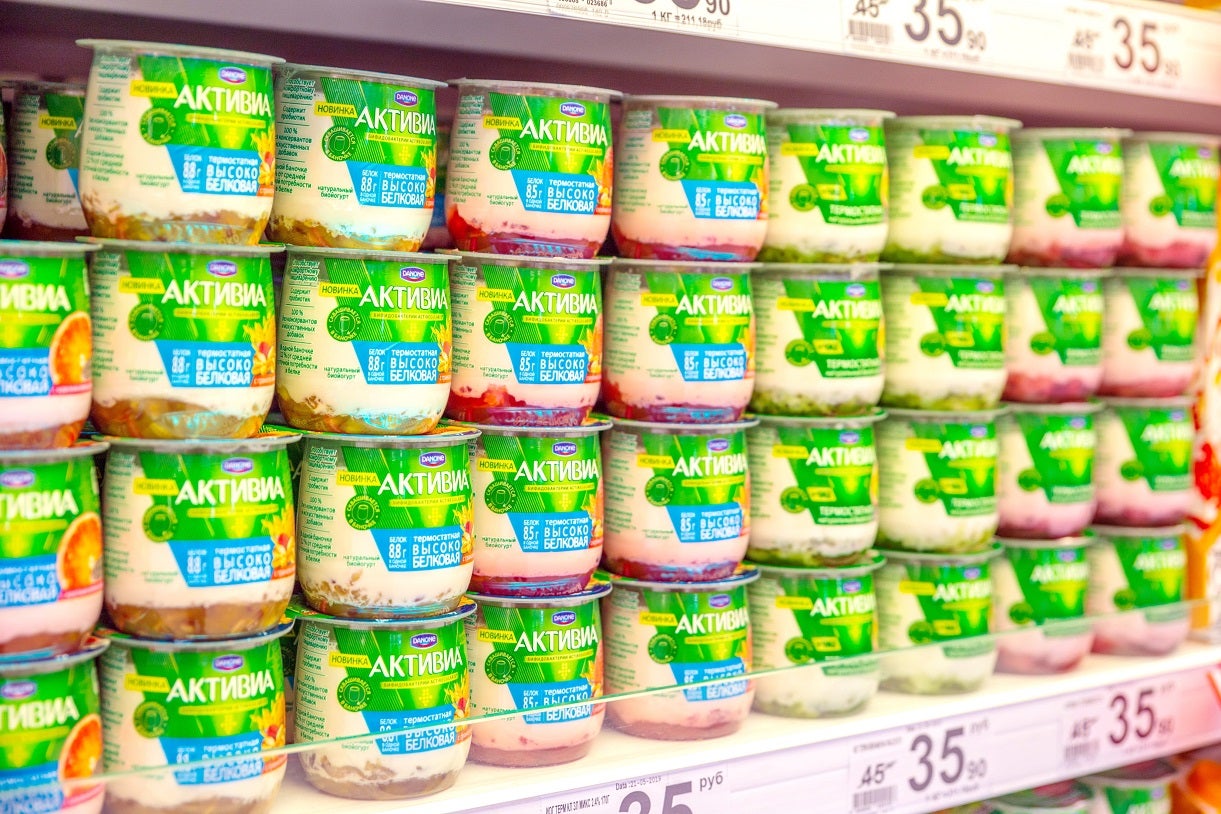 In the immediate aftermath of the invasion of Ukraine, FMCG multinationals had to quickly weigh up what to do with their operations in Russia.
This correspondent knows of one major CPG chief executive who at the time said to a member of staff – with an expletive in the sentence – that they didn't know what to do with regard to their business in the country.
Some announced in pretty short order they would quit the market. Others said they would suspend their investment in Russia but maintain the manufacturing and sale of certain food products – sparking fierce criticism, some of which continues.
Danone was one of the companies in the latter group, halting investment in March but retaining the manufacturing and distribution of products it said were needed "to still meet the essential food needs of the local population".
On Friday, the French giant made a fresh announcement, saying it would shed its dairy and plant-based business in Russia, a move set to cost the company EUR1bn (US$984.1m).
Danone would not confirm further details about its exit plans or whether the business would be taken over by local management, calling it a "transfer [of] effective control". It's likely a sale of some kind will be enacted, either a full disposal, or, perhaps, a situation where Danone retains some kind of stake. Whether in the current environment the company would get a decent price – even for assets that as per Danone's annual 2021 report include 12 production sites – is another matter.
The Alpro and Activia brands owner intends to continue operating its specialised nutrition business in Russia, which includes baby formula. That position will not satisfy some campaigners who want big business to pull out of Russia entirely.
Danone Russia decision applauded
However, away from the ethical debates, equity analysts covering Danone have welcomed the company's decision to largely step away from Russia, even if its business there accounted for 6% of annual sales (ranking at number four in the company's list of markets) and even if the move looks set to come at a hefty cost.
"Russia is clearly an asset they had to exit from," Pierre Tegner, analyst at broker Oddo BHF, said in a note to clients, according to Reuters.
"It is not only because Russia is a low-margin business with poor growth. It is mainly because this asset has generated a lot of distraction over the last 11 years for top management."
Danone made its big play in Russia way back in 2010, merging its dairy business in the country with local player Unimilk and initially taking on majority ownership of that business. However, within a year, Danone was facing questions about its strategy in Russia amid slowing sales and falling margins. By 2016, the company was reshaping the business, ending production at two factories to try to give a further boost to sales and profitability. As recently as 2019, then CEO Emmanuel Faber was describing "the long-term, great potential" in Russia, albeit from "a low base".
Nevertheless, recent geopolitical events have only added to the difficulties of doing business in what industry observers suggest tends to be a challenging market for western companies anyway. And, at an investor day in March this year, recently-installed chief executive Antoine de Saint-Affrique indicated Danone would consider selling "under-performers" if the assets could not be "fixed" – and mentioned the business in Russia as one "not performing at the level". CFO Juergen Esser, while underlining Danone had "a pretty big business in Russia" said its profitability was "below company average".
The investor day took place just days after Russian troops entered Ukraine and, facing questions from analysts about what Danone planned to do with its business there, de Saint-Affrique said "all options were on the table". It's clear now which option was taken.
"It was already an underperforming business before Russia invaded Ukraine," Bruno Monteyne, an analyst covering the European food sector for US-based investment management group AllianceBernstein, tells Just Food. "Combine with that the invasion of Ukraine – which probably gets the whole moral question in there – and then there is also a third problem that, even if you're willing to fix it and you don't mind doing business in Russia, doing business in Russia is extremely difficult, particularly for a western company, in terms of getting the products and dealing with people. Therefore, probably at this point, the best option now is to get out."
Danone has retained its specialised-nutrition business in Russia, a term it uses to describe foods such as infant formula and products for medical conditions. In Russia, the division largely sells infant formula and accounted for around 10% of its sales in the country in 2021.
"Infant nutrition normally is a good business that Danone is very good at around the world. It's also relatively essential and there's not that many global manufacturers of high-quality products so I can see why they've not given up on that just yet – but time will tell whether even they can operate that," Monteyne says.
More broadly, the decision to step away from much of Danone's interests in Russia is the first major corporate divestment the company has undertaken since de Saint-Affrique took the helm in September last year. It would be a surprise if it were to be the last disposal.
"I think this is a sign of things to come and is an indication that there are on sacred cows any more at Danone under the new management and board," Jon Cox, head of European consumer equities at France-based financial-services group Kepler Chevreux, says. "It will prioritise higher-margin and growth businesses and I expect to see exits of the commoditised parts of the dairy business – liquid milk operations, including organic milk, as well as other units in water, including potentially its Evian hotel and golf resort, as well as in baby food or jars."