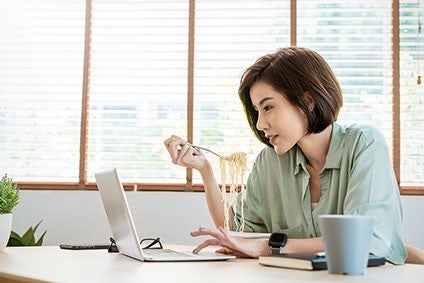 In Chinese collective culture, eating is only fun when shared with relatives, friends, or colleagues. This is reflected in packaged food. Many food companies supply family-size packs or goody boxes containing samples of their products for sharing. A well-known example are the boxes of portions of various nuts and seeds by Three Squirrels, China's fastest-growing snack maker. An extreme category is probably what has become known as 'pig feed': a bag/box filled with various, usually not the healthiest, snacks to be shared with friends.
But Chinese society is changing. Many young people, in particular university graduates, can enjoy a relatively high salary even in their first jobs. They can rent small apartments and frequent bars and restaurants with friends. They enjoy that freedom so much, that they are reluctant to enter into tight relationships. This does not only affect amorous relationships, but also close friendships with college mates, friends from the old neighbourhood, etc. According to the Chinese Ministry of Social Affairs, 92 million single adults will be living in China in 2021.
For some time, 11 November each year has been set as Singles' Day in China, an event mirroring Valentine's Day. To boost sales, Alibaba turned it into a shopping festival in 2009, and earned revenue of CNY50m (US$7.7m). On Singles' Day 2020, Alibaba's online store Tmall alone netted CNY498.2bn in revenue.
Food is a major product group sold on Singles' Day. At 1:00 am, one hour after the day started, snack maker Be & Cheery already reported revenue of CNY300m. The single most-popular type of snack is 'daily nuts', a box/pack with several single helpings of mixed nuts that can be consumed on a one-pack-a-day basis. Different brands offer a variation of mixes, including currants, goji berries, cranberries, dried slices of date, and so on.
Products away from snacks are intended for single users. These are the instant foods and ready-to-eat meals and meal replacers. Breakfast is the meal replaced most radically. Insiders estimate the market for out-of-home breakfast in China will reach CNY840bn in 2021, according to the China Food Newspaper.
Food companies have started developing products especially for singles. One such product group is cooking ingredients. Even the singles who go out most often to eat will occasionally cook for themselves. Still, they are Chinese and are not prepared to make concessions on the flavour, texture or appearance of their food. They will buy their vegetables and meat fresh, but they will need a small but complete stock of ingredients –  rice, flour, noodles, soy sauce, vinegar, spices –  to turn the fresh ingredients into dishes. These ingredients need to fit into their small cupboards and be easy to handle.
The first item in the ingredient list, rice, poses a problem. While we in the west cherish our one kilo packs of rice, Chinese families prefer(ed) to buy a sack of 50kg, much cheaper per kilo and used for several months or longer. Many Chinese singles, however, even have a problem with a 1kg pack. Even though rice keeps well for a long time, they don't want to fool around with a spoon measuring just enough for one meal. What they really like is a one-time pack that you can prepare and eat in one 'single' meal.
Such portions have appeared on the market. Chinese retailer Freshippo even stocks 300g fancy plastic bottles containing rice. Instructions for preparations are printed on the bottle: 'one bottle of rice with one bottle of water'. You first pour the rice in the cooker, refill the bottle with water, add it to the rice, and switch on your rice cooker. The unique design of the bottle and the ease of use create the perfect cooking experience for young single Chinese.
Haitian Flavouring & Food Co., one of China's leading producers of condiments such as soy sauce or oyster sauce, entered this market with a high-level marketing campaign in December. It launched a broad range of spice mixes in single-helping sachets under the brand name Kuaijie ('Quick Finish').
The range includes traditional spice mixes like yuxiang ('fish flavour', a combination of hot, sour and savoury) or hongshao ('red cooking', combining dark soy sauce, sugar and fermented bean curd), as well as sauces to pour over dishes once they are finished, such as sauces to spice up a bowl of boiled noodles, or salad dressings to flavour a mix of raw vegetables.
Whatever your choice, you select the flavour from the drawer, tear it open, empty it in the wok or bowl, and throw away the sachet in the bin. No measuring needed, you can produce a tasty meal while continuing to figure out what the bug in your software could be, or how you can reach your sales target for the month. Each flavour has its own colour and a unique, funny, picture (e.g., a couple of pugs for yuxiang sauce, or a pink rabbit for the salad dressing). In my previous column, I underlined how packaging is gaining importance in the Chinese packaged food market and mentioned a trend towards traditional Chinese icons.
There would also be opportunities in more indulgent offerings. In the Netherlands, where I reside, we have our famous 'breakfast cake', made from rye, spices and honey. Most consumers love it, but who takes the time to cut off a slice and wrap it for lunch at the office? It is now also available in individually-packed slices and consumers eat them during breaks, on trains, etc. A product like that would have a huge market in China.
Small packs of crisps or other savoury snacks will also appeal better to these consumers than large family packs that you will leave on the table half-full, only to find it turned stale the next day. The same applies to small-size candy bars, or a pack of biscuits half the regular size (Pladis, through its McVitie's brand, is selling digestives in such sizes in China).
The typical points of sale for these products in China are 7-Elevens, food stores in high-end office buildings, or the showcases of coffee shops where brands can attract attention of the patrons lining up to order their favourite brew.