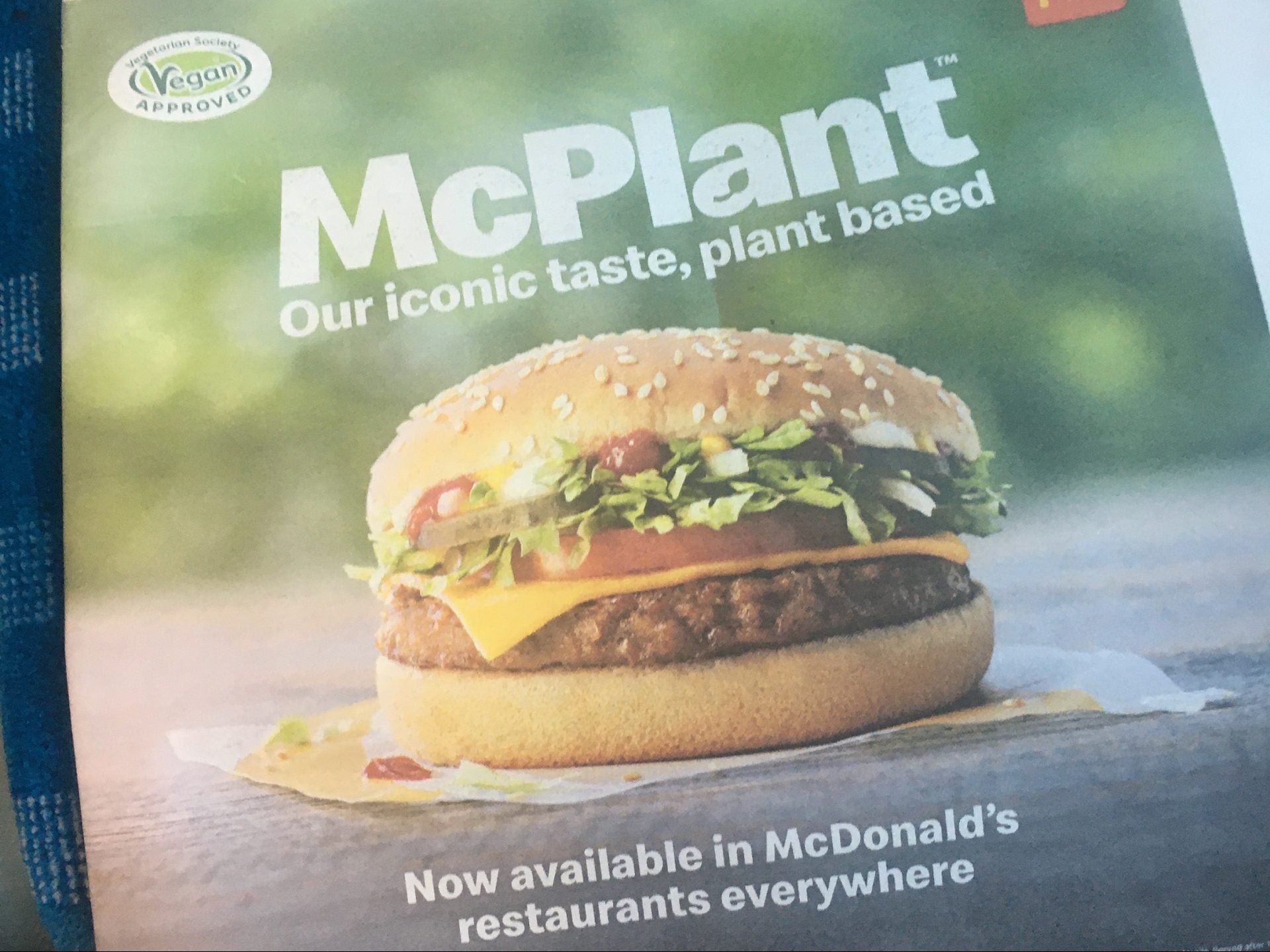 As well as taking down the Christmas tree and making New Year's resolutions, a sure sign it's January is that – to some – it's also Veganuary and, with that, comes a flurry of new plant-based products appearing on shelves and on menus.
There is little doubt vegetarian and vegan foods have moved from the margins to the mainstream. Brands – both native to the category and spin-offs from conventional meat – are battling for consumers' attention. And some of the biggest names in the industry believe it's worth the investment to plug their wares in what continues to be a growing market.
Picking up a copy of the Metro, the UK-wide daily freesheet, on the school run this week and seeing a wrap-around ad plugging the launch of the McPlant burger wasn't a huge surprise. It underscored the significant marketing money being put behind plant-based alternatives to conventional protein, especially meat and dairy.
Investors' cash also continues to be spent in the area, both by the financial community and by corporates. In the opening days of 2022, we've already seen German confectionery giant Katjes Group invest in alt-milk firm Unmilk and, in an earlier-stage niche, animal-free dairy start-up Remilk secure another US$120m in funding.
Forecasts do indicate markets for alternative protein will continue to grow. Last month, UK-based data and analytics group GlobalData released figures it said showed the meat-substitutes market is set for continued global expansion, with retail sales to hit $11.9bn by 2025.
GlobalData classifies meat substitutes as: soy-based products; grain-based lines; those made from a single-cell protein such as fungi or algae; and 'vegetable- or plant-based proteins' such as those made from legumes.
But, for all the marketing splashes and investor cash, some pressing questions continue to be asked about the prospects for plant-based food. When some of the largest names in the industry are putting significant resources behind their plant-based endeavours, it may seem a little churlish (even naïve?) to raise questions about the future of the market. That the category will continue to grow is not in doubt but what will the extent of that growth be? Who will win and fall away? What further work needs to be done on the flurry of new products hitting shelves and menus to ensure meat and dairy eaters (as that's where the substantive market is) don't just buy them once but buy them again and again? And, against a backdrop of inflation and pressure on household finances in markets worldwide, what about price?
This week, also in the UK, French dairy giant Bel hailed the launch of a plant-based version of its Babybel cheese.
"Very proud to be part of such an exciting and significant moment for the brand. A huge amount of work by so many people and a massive achievement!" brand manager Ollie Richmond wrote on LinkedIn. And understandably so.
The responses Richmond's post sparked were illuminating, a mix of congratulations and enthusiasm but also detailed questions and concerns about the product's recipe.
As a further note of caution for those in the category, just before Christmas the World Health Organization issued a new "factsheet" on plant-based diets and "their impact on health, sustainability and the environment".
"The aspiration for healthier living and a healthier environment is changing people's diets across the WHO European Region – and that is wonderful," Dr. Kremlin Wickramasinghe, acting head of the WHO European Office for the Prevention and Control of Noncommunicable Diseases, said. "But we need to remember that plant-based diets can be very different from one another and should not automatically be considered healthy."
According to the WHO, some plant-based substitutes "can be defined as ultra-processed foods (UPFs), which means they have a high energy density, tend to be high in sodium, saturated fat and free sugars, and lacking in dietary fibre and in vitamins and minerals found in unprocessed foods (including animal-based foods) and minimally processed plant-based foods".
Dr. Wickramasinghe added: "Major blind spots remain when it comes to the nutritional composition of these products, and how they contribute to dietary quality and diversity in the WHO European Region. This lack of information prevents governments from forming effective policy guidance, with potential consequences for population health."
Of course, many doing business in the plant-based market will – and do – emphasise the health credentials of their products and it is these attributes that play a role in attracting new customers to the category.
But the fact an organisation like the WHO is raising the issue is telling. Mainstream consumers may not presently have the inclination to dig into such details and ask questions about them. But, over time, more and more will.